Healthy 'Reese' chocolate-nut butter
cups from Saskia Gregson-Williams
Are you a chocoholic looking for a healthy treat this Easter? Try this recipe using Chi Coconut Oil from one of our favourite food editors Saskia Gregson-Williams.
Instead of sugar loaded chocolates, she makes hers with three simple ingredients: Chi Coconut Oil, raw cacao powder, and agave/pure maple syrup. Then she fills it with almond or peanut butter.
"Not only are these chocolates 'not bad for you' they are actually so incredibly good for you!  Raw cacao, is a raw un-processed cocoa powder, meaning you can harness all of its incredible superfood properties. It's one of the richest sources of antioxidants in the world, protecting your body against disease and free radicals entering the body. It also increases your serotonin levels (the happy hormone) so you can eat as many chocolates as you want knowing its going to make you happier and healthier!" says Saskia.
Recipe:
120ml melted Chi coconut oil
3 Tbsp agave/maple syrup
60g Raw cacao powder
1 tsp of nut-butter of choice, per 'Reese' cup.
Method:
Add the melted coconut oil, agave and cacao powder to a bowl and mix until completely smooth.
Line a cupcake tray with mini cupcake moulds/ cases. Divide the mixture in half. With one half start by pouring 1 tbsp of the chocolate mix into the bottom of the cupcake moulds. Put in the fridge for 10 minutes to set.
Remove from fridge, and put one tsp of nut-butter spread in the middle of the chocolate, top with another tablespoon of chocolate/enough to cover.
Put back in the fridge and leave to set for another 10-15 minutes.
Enjoy with a glass of hot almond milk, for maximum pleasure!
Competition time – Go
coconuts this Easter!
Are you looking to have a healthier Easter this year? Or maybe want to recover after some chocolate indulgence? Then enjoy a healthy selection of your favourite coconut goodies by entering our competition. For your chance to win delicious Chi Coconut Waters, Milks and Oil, Coconut & Macadamia Bounce Balls, Mango & Coconut Cuckoo Bircher Museli and Coyo Coconut Yoghurt, simply follow Chi on Twitter at @Chicocowater and RT the competition post.
Terms and conditions:
To enter, you must follow @Chicocowater on Twitter and RT the competition post
The winner must reply within 24 hours to receive their prize before Easter weekend
If the winner hasn't responded within 48 hours another winner will be selected
The prize package consists of: 6 x Chi drinks (330ml), 1 x Chi Coconut Oil (45g), 4 x Bounce Balls, 4 x Cuckoo Bircher Muesli, 4 x Coyo Coconut Yoghurts
Chi takes no responsibility for lost, delayed or damaged prizes
The competition is only open to UK residents
The winner will be selected at random
In events outside of the promoter's (Chi) control, Chi reserves the right to offer alternative prizes
Some of the prizes will be offered in voucher format
The competition closes on midday on 15.04.14
Coconut Recipes by
Iveta Ratarova
Hi coconut fans! Here are three delicious & healthy recipes using Chi products, courtesy of Iveta Ratarova. The perfect dishes to enjoy at home with your beloved, family or friends!
Tender chicken breast marinated in coconut
Ingredients:
4 skinless boneless chicken breast halves
½ can coconut milk
1 cup CHI coconut water
The juice of half a lime
5 leaves fresh basil
2 sprigs of fresh rosemary
¼ tea spoon salt
½ tea spoon ground black pepper
Coconut oil
Directions:
Mix all the ingredients in a big bowl or a box and leave them for at least 24 hours in the refrigerator so the chicken can absorb all the flavours. Preheat the oven on 190 degrees (fan). Without adding the herbs or the liquid, place the chicken into a baking dish. Put ½ teaspoon of coconut oil on each piece of chicken and a little bit of white wine. Put everything in the oven until the meat obtains caramelized colour.
Coconut wild berries smoothie
Ingredients:
6 oz organic CHI coconut water
½ cup organic blueberries
½ cup strawberries
½ banana
2 tablespoons organic whole milk plain yogurt
1 tablespoon Chi coconut oil
6-8 ice cubes, depending on how you like it
Directions:
Toss all the ingredients in the blender and blend well until frothy. Pour into a glass and enjoy!
Coconut pancakes
Ingredients:
½ cup coconut flour
1 cup almond flour
2 eggs
½ cup CHI coconut water (or any nut milk that you fancy)
3 tablespoons melted coconut oil, plus more for pan
3 tablespoons raw organic honey
¼ teaspoon sea salt
Directions:
Thoroughly combine all ingredients in a medium size mixing bowl, be sure there are no lumps. Coat a pan with coconut oil on medium heat and drop in pancake mix (these cook better when kept small: 1 1/2 to 2 tablespoons of mix). Flip once slightly browned on bottom, approximately 3 minutes. They are ready when well-formed and easy to flip. Cook additional 2 minutes and remove from pan. These pancakes are delicious on their own but can be topped with raw honey, maple syrup, homemade jam or fresh fruit.
There's no business
like show business
The team at Chi drinks has been busy at the Food and Drink Expo show in Birmingham over the last few days.  It has been a great opportunity to speak to some of our fans and make some new friends.  We like nothing more than being able to talk about our products and see people enjoy trying them.
Next up is the Be:Fit show in London.  The show is all about helping women to gain long term tools to be strong, fit and healthy – something we believe strongly in at Chi HQ!
Raw Vanilla Almond Cream
with Chi Coconut Oil
Happy Pancake Day, coconut fans! We thought we'd share this lovely, little recipe with you, courtesy of one of our favourite bloggers, Raw Vegan Blonde. It's the perfect addition to your pancakes, and suitable for both Vegan and Paleo diets*. Enjoy!
Raw Vanilla Almond Cream with Chi Coconut Oil by Amber (Raw Vegan Blonde)
Ingredients:
200g almonds (soaked overnight in enough water to cover the nuts)
6 pitted dates (soaked overnight in 2 cups of pure water)
1tbsp Chi organic virgin coconut oil
1 vanilla pod
Drain and rinse the soaked almonds then blend with the other ingredients (including the soaking water from the dates) until a smooth, creamy consistency is achieved. Add in a little more water if it looks too thick and blend again. Then pour into a bowl, cover and chill in the fridge for 30 mins before using.
*Amber's pancake recipe (pictured) uses 'Papaya 'Pancakes' made with sliced papaya layered with raw vanilla almond cream and topped with strawberries and passion fruit.
5 Reasons to
NOT Drink Alcohol
We've been told that a little bit of alcohol is healthy for us, for example a glass of red wine will provide us with resveratrol, a powerful antioxidant. There may be some health benefits, but there is increasing incidence of women especially, consuming beyond the recommended amount of alcohol, often binging at the weekends. It's very easy for us to consume over the recommended 2-3 units per day – that one large glass of wine may equal this! How many of us consume way more than this in an evening out or at home?!
Women are more physiologically sensitive to alcohol than men. This is because we have a lower body content of water and we have a higher fat content, therefore alcohol becomes more concentrated in our systems and is retained in our bodies longer. As a result women develop liver disease at lower levels of alcohol intake than men do, and are at increased risk of osteoporosis (due to reduced absorption of nutrients).
Five reasons not to drink alcohol, or at least to reduce your intake:
Protect your liver – The liver is an amazingly robust organ, and is the only organ that has the ability to regenerate itself after certain types of damage. Unfortunately alcohol is one of the toxins that the liver doesn't handle as well as other toxins, and it cannot regenerate after being severely damaged by alcohol. The liver processes 95% of alcohol ingested. Alcohol is seen as a toxin and therefore the body will preferentially process it before anything else. As a result alcohol is absorbed and processed before nutrients and food; therefore it's not a good idea to consume alcohol whilst eating!
Optimise your nutrient absorption and prevent excess aging – Repeated consumption of alcohol inhibits the liver's production of digestive enzymes, which then majorly reduces the body's ability to absorb proteins, fats and the fat-soluble vitamins (vitamin A, D, E and K), as well as the B complex vitamins especially B1 (thiamine) and folic acid. Many essential nutrients are not retained by the body and are 'washed out' rapidly through the urine. This means that alcohol consumption causes a major loss of valuable nutrients and antioxidants. Without these vital elements, we may not have the adequate ingredients to make collagen, meaning we may produce wrinkles more easily. With the loss of antioxidants, we may age much more quickly, losing our vitality and looks.
Avoid excess weight gain, especially around the middle – Because alcohol prevents the body's ability to digest fats properly, excessive amounts of fat may accumulate in the liver. Leptin is a peptide hormone involved in the regulation of appetite and energy metabolism. High levels of leptin are known to contribute to fatty infiltration of the liver. Alcohol prevents the release of glucose from the liver and can cause hypoglycaemia (low blood sugar levels). This drop in blood sugar often produces a craving for foods, especially foods that raise blood sugar such as more alcohol or sugar – not good for anyone, especially those concerned about weight gain, especially fat around the middle! For anyone with diabetes and are taking insulin, this can have very serious negative results.
Alcohol can negatively affect your sex life and fertility – Alcohol reduces the body's storage of the essential mineral zinc. Zinc is involved in hundreds of reactions in the body, so without it, many processes suffer, including your hormonal balance and fertility. For men! For men it can reduce testosterone production and cause erectile dysfunction, and for women it can disrupt your menstrual cycle, and if you're thinking about having a baby, alcohol consumption increases your chance of miscarriage and birth defects.
Alcohol may be making you depressed and anxious – As alcohol reduces the absorption of many essential nutrients, it may be having a major impact on your brain chemistry in a negative way. For example, those consuming excessive alcohol may have lower levels of tryptophan (the amino acid that is converted to serotonin). Low serotonin is a major feature of depression. Selenium deficiency may occur as a result of alcohol intake and is associated with depression, anxiety, confusion and hostility. The absorption of B vitamins are majorly affected by alcohol consumption, and deficiency in these crucially important vitamins will add to stress, nervous tension and energy levels.
So there are many reasons why alcohol is not recommended. Ultimately it will age you quicker and with regular consumption may potentially cause damage to one of the most important organs of the body. It is the master toxin remover, and needs to last our lifetime. Let's help it function more optimally and we will be rewarded with looking and feeling younger and happier, whilst maintaining more optimal weight and more!
Elouise Bauskis – Naturopath, Nutritional Therapist & Herbalist
101 Uses for
Coconut Oil
In cooking as a great oil with a high smoke point. Great for baking, stir-frys or as a dairy free replacement to butter.
Taken supplementally for daily energy
As a coffee creamer when emulsified into coffee (The only way I'll drink coffee)
On the skin as a basic lotion
In homemade lotion bars for soft, smooth skin
As an eye-makeup remover
As a cloth diaper safe diaper cream (just rub on baby's bottom)
In making your own Remineralizing Toothpaste
To lighten age spots when rubbed directly on the skin
To prevent stretch marks during pregnancy
To support healthy thyroid function
In homemade Mayo without the high PUFA vegetable oils
As a naturally SPF 4 sunscreen
To get rid of cradle cap on baby- just massage in to head, leave on for a few minutes and gently rinse with a warm wash cloth
Topically to kill yeast or yeast infections
As a delicious tropical massage oil
It's high Lauric acid and MCFA content helps boost metaboism
A tiny dab rubbed on your hands and then through hair will help get rid of friz
As an intensive nighttime facial moisturizer
Mixed with equal parts sugar for a smoothing body scrub (use in the shower)
Rubbed on lips as a natural chap stick
Topically, can help skin heal faster after injury or infection
Directly on the perineum to help heal after birth
As an incredibly intensive natural conditioner- Rub into dry hair, put a shower cap on and leave for several hours
On feet to fight athlete's foot or tor fungus
In place of Lanolin cream on nursing nipples to sooth irritation (also great for baby!)
Can help sooth psoriasis or eczema
There is some evidence that regular ingestion of coconut oil can help prevent or reverse Alzheimers
 With apple cider vinegar as a natural treatment for lice that actually works
In natural Homemade Sunscreen
In healthy brain boosting snack for kids like Coconut Clusters
In a filling and energy boosting Brain Powder Smoothie
Rub coconut oil on the inside of your nose to help alleviate allergy symptoms
Nursing moms can take 3-4 tablespoons a day (and Vitamin D) to increase milk supply and nutrients
There is some evidence that coconut oil helps digestion and may even kill intestinal parasites or yeast
Mix a tablespoon with a tablespoon of chia seeds for an all-day energy boost (do NOT take this at night!)
Can help improve insulin levels
Oil pulling with coconut oil and a drop of oregano oil helps improve gum health
Can help improve cholesterol ratios
Blend a tablespoon into hot tea to help speed recovery from cold or flu
As a replacement for vegetable oils in any recipe
Better for high-temperature cooking than olive or vegetable oils
Can help reduce appearance of varicose veins
After initial heat is gone, can help speed healing of sunburn
Is an immediate source of energy when eaten and isn't stored as fat
As a natural personal lubricant that won't disturb vaginal flora
As a naturally antibacterial skin cream
As a natural shave cream and after shave lotion
When used consistently on skin it can help get rid of cellulite
To season cast iron skillets
It's anti-inflammatory properties can help lessen arthritis
Can reduce the itch of mosquito bites
Can help resolve acne when used regularly
Can be rubbed into scalp daily to stimulate hair growth
I've used in kids ears to help speed ear infection healing
On split ends to de-frizz
A small amount can be rubbed into real leather to soften and condition (shiny leather only… test a small area first)
By itself as a great tanning oil
Mixed with salt to remove dry skin on feet
Can help speed weight loss when consumed daily
Can help improve sleep when taken daily
Can be used to speed healing of fungal infections when taken internally and used externally
A tablespoon melted into a cup of warm tea can help sooth a sore throat
To help sooth the itch of chicken pox or poison ivy
It has been shown to increase absorption of calcium and magnesium
Internally as part of the protocol to help remineralize teeth
 Some evidence shows that the beneficial fats in coconut oil can help with depression and anxiety
By itself as a natural deodorant
By itself or with baking soda as a naturally whitening toothpaste
For pets struggling with skin issues when used externally
Some evidence suggests that the beneficial fats in coconut oil are helpful for those with Autism
As a safe cooking oil for deep frying
A tablespoon taken before each meal can help improve digestion
Can be taken in warm ginger tea to sooth heartburn or nausea
As a completely natural baby lotion
On hands after doing dishes to avoid dry skin
Mixed with catnip, rosemary, or mint essential oils as a natural bug repellent
Can be used on mom's nipple and baby's mouth to help treat thrush
Many use it as an anti-aging facial moisturizer
Use to make coconut cream concentrate for a brain boosting snack
Can be used internally and externally to speed recovery from UTIs
When taken regularly, it can help fight candida
When taken regularly, it can boost hormone production
Can relieve the pain of hemorrhoids when used topically
Can boost circulation and help those who often feel cold
On cuticles to help nails grow
Rub into elbows daily to help alleviate dry, flaky elbows
Add to smoothies to give them a nutritional boost
Internally during pregnancy to help provide baby necessary fats for development (especially when taken with Fermented Cod Liver Oil)
In any recipes where vegetable oils are used
Whipped with shea butter for a soothing body balm
One reader swears by using coconut oil to treat yeast infection. She suggests soaking a tampon in it and inserting the tampon for a few hours.
Naturally clears up cold sores
Ingesting coconut oil daily can help with allergy symptoms
Ingesting coconut oil daily can increase mental alertness
Dry January Official
Drinks Sponsor
We are delighted to announce Chi 100% Pure Coconut Water as the official drinks sponsor for Dry January 2014!
Dry January aims to start a new conversation about alcohol. Your challenge is to go booze free for 31 days in January 2014.
It's your chance to lose weight, feel better, save money and make a difference.
The money you donate will help Alcohol Concern make a real difference and help raise awareness of the problem of alcohol misuse.
Find out how you can get involved here: http://www.dryjanuary.org.uk/
Chi Coconut Oil on
Promotion at Amazon UK
Chi is offering 15% off on the brand new 100% Organic Raw Virgin Coconut Oil at Amazon UK, until Christmas. The perfect gift or stocking filler, and a must-have in everybody's kitchen.
Is Coconut Water the
New Miracle Health Drink?
If coconut water was a 'cure-all' we are sure that many more people in the medical professions would be extolling its virtues and encouraging us all to be drinking it on a regular daily basis.
But just because they are not doesn't mean that there isn't some truth in the claims and that maybe you might benefit from picking up a few bottles or cartons of coconut water instead of your usual sugary drinks.
Trends recently saw a rise in the popularity and marketing of Coconut Water as the 'new kid on the block' in terms of health drinks and a quick search of the internet will reveal unlimited claims that the humble coconut contains the cure for a hangover, dehydration, aids weight-loss and even helps to boost immunity.
But what does it taste like and will it really cure all?
Coconut water can be found inside young, green coconuts – and should not be confused with coconut milk which is made from the coconut flesh and contains about five times the calories of coconut water.
Naturally high in electrolytes – minerals such as potassium, magnesium, calcium, sodium and phosphorous – which are vital to maintain normal function of our bodies and cells, coconut water is also low in fat, acidity and calories, making it a great alternative to many soft drinks and sugary fluid-replacement sports drinks that are currently available.
Drinking coconut water is certainly a good option if you like the taste – but for many it leaves more to be desired so they often opt for the higher fat, yet more palatable coconut milk.
We recently discovered 'Chi' and 'Jax Coco' who are not only producing great coconut water but also putting back into the coconut producing communities.
If you are looking for coconut water 'to go' then the makers at Chi can offer you a good range of drinks. Not only do they use Tetra Pak packaging, Chi are committed to helping the communities where they source their product, so a portion of every pack sale is donated to One Seed One Life, a charity providing help to children in the most dilapidated orphanages throughout Thailand.
Their coconut water has a much cleaner taste than others we have tried, virtually no calories (8kcal/100ml) and comes in a handy-sized carton, making it suitable to pop into your lunchbox, handbag or gym holdall.
For those who weren't keen on the taste of coconut water Chi have created a chocolate coconut milk, but unlike other milks this is primarily made from water, with only 8% coconut cream added to the mix. By keeping down the cream the calories also get reduced (49kcal/100ml).
If you are not keen on the coconut water but looking for a healthier chocolate shake to satisfy your sweet tooth then you will find the Chi Chocolate Coconut Milk has a refreshing taste, light top notes and none of the heaviness associated with many milkshakes and chocolate drinks. For more information on the complete range visit http://chidrinks.co
"A naturally isotonic beverage with the same level of electrolyte balance as we have in our blood… It's the fluid of life."
– See more at: http://yoursourcetoday.com/blog/coconut-water-new-miracle-health-drink#sthash.wOqvMFcL.dpuf
The growth
of CHI
http://www.retailtimes.co.uk/popularity-coconut-water-revealed-chi-coconut-waters-huge-growth-2013/
Popularity of coconut water revealed in Chi Coconut Water's huge growth in 2013
WRITTEN BY FIONA BRIGGS
WEDNESDAY, 30 OCTOBER 2013 00:01
Coconut water brand Chi has announced a 500% increase in growth since last year. In the first three months of 2013 alone, Chi's turnover exceeded that of the whole of 2012 – a consequence of boosted sales both in the UK and abroad, including emerging markets such as Poland, Lithuania and Slovenia and a rapid increase in European territories such as Finland, Holland and Sweden.
Since Chi launched in 2011, it has introduced private labels into a chain of 250 UK on-the-go food chains, including Pret a Manger; and is available in thousands of UK retailers, including WH Smith, Ocado and Whole Foods Market. According to Tree of Life wholesale data, Chi was the fastest growing UK coconut water brand in 2012.
Earlier this year, Chi expanded its range with three new flavours – coconut water and tropical fruits, coconut water and pineapple, and coconut water and mango. It also launched two dairy free coconut milks – Chi Chocolate Coconut Milk and Chi Espresso Coconut Milk. The latter won the Best Ready to Drink Coffee award in the Beverage Innovations Awards at DrinkTech last month. The entire on-the-go Chi range is packed in Tetra Prisma Aseptic 330 ml with DreamCap, a carton and closure combination ergonomically designed for the on-the-go consumer.
Jonathan Newman, founder & CEO of Chi Drinks, said: "Our growth figures clearly show that consumers have decided that coconut water is here to stay – and with Chi outselling all competitors within a space of 9 months in 2012, obviously consumers are loving the Chi brand. The huge growth of coconut water generally shows it has moved from a niche health product to a popular daily drink for shoppers across the UK and abroad. We are really proud of our drinks- not only do they taste great, they are a fantastic way to rehydrate. And, because they are packed in portion seized Tetra Pak cartons, they are really convenient, especially for those who like to drink on the move".
"We have enjoyed a fantastic 2013 so far and I have no doubt that 2014 will be just as strong."
Mike Jarvis, portfolio manager at Tetra Pak, said: "The growth of Chi and coconut water more broadly is a phenomenal success story and we are delighted by the progress of the Chi range. Our cartons have a strong environmental profile and are designed to be as convenient as possible. It is largely because of this that Tetra Pak cartons continue to be the packaging of choice for new and current coconut water brands, which is something we are really proud of. "
Worldwide, the number of product introductions in the coconut water sector has more than quintupled (+540%) in the past five years (Mintel research: Tropical storm in the food and drink market: launches of coconut water quintuple over the past five years, May 2013).
The paperboard used to make the Tetra Prisma Aseptic carton used by Chi is sourced from FSC certified forests and other controlled sources. Tetra Pak cartons are also low carbon, and are widely recyclable across the UK.
Chi Coconut Water is high in potassium and packed with electrolytes which help rehydrate the body. The range is also low in fat and calories, and has no cholesterol. Chi products sold in the UK are packed in the UK at Framptons.
CHI supports All
Nations Volleyball, London
The 2013 All Nations Volleyball Tournament was the most well attended event to date. Team Italy (pictured) won the women's tournament and Team Africa won the men's tournament.
The Chi Coconut Water display and
collection point were located in the volleyball kit collection and dining area so the branding was visible to all players on all 4 days
and saw the product or the brand an average of 6 times during the tournament.
Every player was given a bottle of Chi Coconut Water to drink at some stage during the tournament. Players were excited about the drink and wanted to find out more about the benefits of coconut water and where it could be purchased.
'It was great to have established a relationship with such a dynamic company as Chi and we hope that the collaboration will get stronger as we move into the 10th anniversary of the tournament in 2014. We really hope that Chi will be on board for 2014 to celebrate it with us.' -G Beckford, All Nations Tournament Founder
Some interesting facts about the 2013 All Nations Volleyball Tournament
4 DAYS OF COMPETITION 180 HOURS OF VOLLEYBALL 155 MATCHES 32 TEAMS 410 PLAYERS 30 COACHES 52 VOLUNTEERS 24 REFEREES 67 CLUBS 55 NATIONALITIES 5 COURTS 5 SLEEPLESS NIGHTS
Positive Luxury
Blue Butterfly
Chi is thrilled to have been awarded the BLUE BUTTERFLY from Positive Luxury.
here is the link to our brand page:
What is the BLUE BUTTERFLY?
(excerpt taken from the POSITIVE LUXURY WEBSITE:)
The Blue Butterfly
Positive Luxury's mission is to curate and champion an exclusive collection of stylish, responsible brands – creating the ultimate destination for people looking to live a more positive life.
Our vision is for a world where people and the environment prosper together – where companies and brands are part of the solution. We believe that the best way to promote positive living is to make it attractive, enjoyable and profitable for people, businesses and communities.
We know that when people have reliable information about the social and environmental efforts of brands and companies, they make informed decisions about the products they buy – and reward the brands they trust.
What is the Blue Butterfly – the Mark of Positive Living?
It is an interactive trust mark, a simple badge of honour that cuts through claims and counter claims to give people a simple truth. When you see the Blue Butterfly trust mark, you will instantly know how the company has made significant efforts towards bettering the community and the environment.
Why the blue butterfly? It's an interesting story…
One of the most beautiful butterflies in the world – the Large Blue – was wiped out in the UK in the 1970s, thanks to new farming techniques and over-eager butterfly collectors.
In 1983, conservationists started importing the species from Sweden and, over time, successfully reestablished the Large Blue – the most successful insect reintroduction programme in the world.
It wasn't easy – 23 different organisations had a part to play, from Oxford University to the National Trust – but there are now tens of thousands of Large Blues fluttering across the south west of England, in what Sir David Attenborough calls a 'remarkable success story, illustrating the power of ecological research to reverse damaging environmental changes'.
The moral of the story?
We believe we can all play a part in reversing environmental damage, and that making more informed choices about the brands we choose to buy can help us each to create our own blue butterfly story. In other words you get to look good and live well without changing your habits – you just have to know where to shop. And we're doing that bit for you.
All you have to do is look for the Butterfly.
Amazon
Endorsements
A great review of Chi from a user who purchased Dr Martins.
(views are those of the purchaser  and review is from Amazon)
http://www.amazon.co.uk/review/R1OPID7ICGQWS4/ref=cm_cr_dp_title?ie=UTF8&ASIN=B002YDRS38&channel=detail-glance&nodeID=340834031&store=grocery
4 of 4 people found the following review helpful
Delicious when not yellow.
, 28 Feb 2012
This review is from: Dr Martins Organic Coco Juice – Pure Organic Coconut Water – 500ml x 10 (Grocery)
There is no doubt that this is delicious coconut water.
I've ordered this product twice, once from both people who sold on amazon. (I think one seller has stopped now, not sure)
Both times that I ordered it, at least two of the ten cartons, once three of them, contained yellow water. The water should be clear, or slightly cloudy in colour, not yellow. Some may still drink that, I would not.
I think this may just be the nature of this particular product.
However, it is extremely expensive to begin with, almost ridiculously so, so losing even one of a ten pack is just intolerable, unless you have money to throw away.
If the price was better I may still choose this one, but for now, the, 'CHI coconut water', (also on amazon) is winning hands down, due to high quality and great price.
Purchase CHI or visit chi here: www.chidrinks.co
Fad Hag:
Coconut Water
From: http://www.getthegloss.com/article/fad-hag-coconut-waters
Photography by Ian Skelton
Coconut water is the drink on everyone's lips, but is it a fad or truly fabulous for our health? GTG Editor Susannah Taylor finds out
Once upon a time it was blueberries and pine nuts, then it was Acai berries, now the current nutritional buzz is all about coconuts, whether it be cooking with their oil (see our feature by Hilly Janeshere), blending coconut meat into smoothies (see Kinvara Balfour's Postcard from LA) or supping coconut water. The latter is currently the most hyped drink in the world, and anyone who is anyone (including Rihanna and Stella McCartney) are being seen to rehydrate with the stuff. But is it all it's cracked up to be health-wise? It would appear so, yes.
Nature's isotonic drink
Firstly, don't confuse coconut water with coconut milk. Coconut water is the liquid inside a young, green coconut, while the milk appears when the coconut matures or is created from grating older coconut meat (used to give curries their creamy texture). Research shows that the benefits of this natural drink are endless: it has been used for rehydration and as a health and beauty aide in tropical regions for centuries; is low in fat and calories (around 25 cals per 125ml); has no cholesterol and has a natural balance of sodium, potassium and calcium.
Benefits of drinking the stuff therefore include immediate rehydration, increased energy, regulation of body temperature and better cell osmosis which equals better general bodily functioning.
Naturally sterile
The coconut palm, shell, husk and meat serve as a natural filter as water passes through the coconut tree, so by the time it reaches the hollow of the coconut, the water is clearer than the purest spring water, and 100 per cent sterile – the key is keeping it this way.
A substitute for plasma
During World War II soldiers fighting in the Pacific were without blood plasma for transfusions. Because coconut water is in perfect ph and electrolyte balance with the human blood, (and is sterile), it served as an ideal substitute, thus helping to save thousands of lives.
So far so amazing, but with so many now on the market how do we know which one to go for?
The purest are flash pasteurised
According to Jax Coco, the current darling of the coconut water world, sold in Harvey Nichols and restaurants such Nobu, the Berkeley, the Dorchester and also available at Ocado.com from November, it's important that coconut water isn't over-pasteurised as if this process goes on too long sugars can be activated. Jax Coco goes from tree to flash pasteurisation to chic glass bottle within two hours (and yes it needs to be slightly pasteurised to give it a shelf life).
Read the label
Always read the label and check that your coconut water isn't from concentrate and contains no added sugars. A few on the market have been flavoured with other juices (such as pineapple or berries), which could mask a less than clean taste, and will also add unwanted sugars.
My conclusion? Go cocoNUTS – the purest forms of this natural super juice are here to stay. One word of warning however – if you are a fan of syrup loaded highly calorific isotonic drinks , your tastebuds may be a little disappointed. Coconut water (unsurprisingly since it is wholly derived from the environment) might be a little bland. My advice is to make the switch anyway – your tatsebuds will adjust – there seems to be no other drink in the world that's better for us, other than water of course. What the hell took us so long?
Coconut waters we like
Vita Coco 100% Natural Coconut Water with Passionfruit, £2.15,
Chi Coconut Water, £2.99,
Dr Martin's Organic Coconut Water with Banana, £3.49,
Cocofina Natural Coconut Water, £1.69,
Jax Coco in a bottle, £8.97 (pack of six),
Jaz Coco Tetra Pak, £14.95 (pack of 12), 

—————————————–
We know which one we like!  www.chidrinks.co
"Chi taste amazing…"
– A Review
We found this very fashionable blog by Hannah Andersson
http://fashionablefit.metromode.se/2013/01/30/chi-coconut-water/
CHI COCONUT WATER05:15
Hi girlies,
Just have to recommend this coconut water, it tastes A M A Z I N G! I usually don´t love the after taste of coconut water, but this one is unreal. Coconut water is the perfect post workout drink. Packed with electrolytes so it will rehydrate your body + rich in potassium which is important to replenish after your workout + rich in magnesium which is great for muscle recovery. I´m so happy I have found a 100%  pure coconut water I actually enjoy drinking, yay!! Get to it ladies!
SWEDISH: Jag bara måste rekommenderar det här märket av kokosvatten (hoppas det finns i Sverige?). Kokosvatten är den absolut ultimata drycken att dricka efter träning. Kokosvatten är full av elektrolyter som återfuktar kroppen + rikt på kalium som är en superviktig mineral att fylla på med efter ett träningspass + rikt på magnesium som är toppen för muskelåterhämtning då du faktiskt bryter ner dina muskler under träning. Har ni sett "CHI Coconut water" i Sverige? I sådana fall rekommenderar jag starkt att ni testar! Nu ska jag iväg och träna några tjejer i North Sydney och sedan blir det intervallpass. Kör extremt sällan dubbelpass! Jag körde en 35 minuters cirkelträning i morse, med galet mycket energi och sug efter träning känner jag för att danka av några intervaller innan middag! 🙂  Kram Hnnah
Why not check out our store locator and see where to pick up your CHI today.
Chi Coconut
Water Obsession
A lovely review of Chi from:
http://linneabylinneanilsson.wordpress.com/tag/chi-coconut-water-100-pure/
Naughty, naughty me… I have a new obsession and it's coconut water! Granted, this may not be such a surprising development after having partially grown up surrounded by sunshine and coconuts in the tropics. But, it was definitely my winter vacation that cemented the love affair. Coconut water is extracted from young green coconuts as the hazy white natural juice inside. For those of you who've yet to give it a go, it tastes a bit like tree water, like if you'd put a piece of wood in a glass of water and not necessarily like the sap. It can be undeniably refreshing, especially if your prune to bouts of nostalgia for those relaxing holidays you spent by the beach slurping on the real thing.
I've seen it marketed as the healthy all-natural option of sports drinks to be enjoyed after hitting the gym particularly hard, but for me, I'm just a fan of the peculiar taste and wonderful memories I have of drinking it. Regardless, it must have some sort of health benefits (yes, that's probably me just trying to convince/justify my indulgences). While in Thailand, I asked and was told that it is the young and slightly immature coconuts that they harvest when they are about 5-7 months to use for the drink. They added that the water was full of minerals like calcium, iron, manganese, magnesium, and zinc .. Sounds good, doesn't it?
So tell me, have you ever tried a slurp and if so, what did you think?
Chi Review –
DANDELION BABY
Reprinted from DANDELION BABY: http://www.dandelionbaby.co.uk/chi-coconut-water
On our visit to the Natural and Organic Show this year we spotted that coconut water was everywhere!  Amongst heavy competition the brand whose water really stood out for us was Chi; with a premium and modern approach to their packaging, they caught our eye and the water itself tasted pure and sparkling clean.  I am not mad about coconuts, you would have to twist my arm to make me eat a bounty bar, but, this water is incredibly refreshing, thirst quenching and yet moreish.  Most importantly it is fat free, low in carbs (whilst still containing more potassium than a banana), is low in sugars and hydrates quicker than water.  Chi Coconut water (£20.28 for 12) is packed with electrolytes so it acts like a sports drink but without the nasties, perfect as a pick me up when pushing the pram round the park.
Video Review of
Chi Coconut Water
Thanks to RAY for shooting this video review of CHI COCONUT WATER.
CHI is great after Yoga. We love Bikram!
Chi Coconut Water
– REVIEW
A lovely review of CHI COCONUT WATER courtesy of LUCY WRITES Blog http://lucyywrites01.blogspot.co.uk/2013/02/chi-coconut-water-review.html
I've always wanted to try coconut water yet for some odd reason that I can only put down to living in Somerset…it just doesn't seem to be in any supermarket here!? Slightly ridiculous with how much rubbish fills the shelves compared to the healthy nutritional values of this beverage. Coconut water surprised me, I couldn't have expected a different taste and texture.
Coconut water has many benefits not only to your health but also beauty (skin care) just like your regular tap/bottled waters however this low fat drink contains very low calories, no cholesterol and more potassium than a banana. Calcium and magnesium are in there too, while it gets to work helping you rehydrate quicker, help digestion and work wonders on your immune system. One product celebrities have promoted correctly I think you'll agree. Chi Coconut water in particular contains less natural sugar than other brands, with nearly four times as less in some cases! They also only use the sweetest of Thailand coconuts and win on the original name and packaging – Chi means life force while they must be the only brand not to include coco in their name nor a stockpile coconut image. Bravo.
I expected a clear liquid, that strongly tasted of very sweet coconuts, similar to juice drinks I've craved over the years however I couldn't be any more wrong. The liquid itself is a milky white with a grey tinge with no coconut scent to linger. After my first few sips I definitely wasn't won over but things changed. Half way through I started to feel refreshed and perfectly cool – I've been struggling to keep a temperature down all week thanks to the flu. Mixing the water has been a lot of fun and will carry on into the summer months whether it be smoothies or cocktails. Coconut water comes in handy when I'm cooking, I like my food hot and most my family struggle with the slightest kick. Though men assume they won't like this drink despite not taking a single sip. You get used to the texture it's only slightly thicker than regular water.
Coconut water will be down to personal taste, however if you hate coconut normally you may even surprise yourself when you try some. I can't wait for those few days of summer us Brits get to pour this over lots of ice and dabble with making some cheeky afternoon cocktails. Chi Coconut Water retails for £1.69 per 330 ml carton or £18.49 per 12 330 ml cartons.  If you like it that much they even sell 12 litre cartonsfor £36.99, now that's a lot of coconut water – or a slightly normal 1 litre carton for £3.49 from Natures Healthboxwho have a lovely Gluten Free section for me to browse too!
Chi is the "Fastest Growing
Coconut Water Brand of 2012"
(source: Tree of Life)
Best coconut water – CHI
review on Miss ECO Glam
A great review from the fabulous Miss Eco Glam.  I also highly recommend Anna's site for all things natural and wonderful and healthy. And a beautifully designed site too.
Here it is, reprinted:
After searching for a high quality almost good as the real thing Coconut Water – Here it is! CHI coconut water!
I have been lucky enough to try real coconut water, straight from a wild coconut. In Costa Rica, they were everywhere, on the edge of the sand near the oceans, just free for anyone to take.  I drank them regularly and also have tried coconut water a few times back in Australia.  Having pure coconut water from a young green coconut, is pretty unforgettable. There is no other drink quite like it and the health benefits are phenomenal.
Now that Coconut water is so fashionable, and with so many brands on the market, are they all to be trusted? Are they all the same? Are they what they claim to be?
If any of you read my previous review of the ridiculously bad brand called zicco, you will know that nope, some of them can be terrible quality.  And, I found out today not only do some have added sugar to them, (which is crazy as coconuts are naturally sweet!) but bleach can be used as well in the production of the coconuts. YUCK!
I am very excited to tell you about this new brand I have just come across called CHI.  Not only is the website absolutely stunning, what is inside will not disappoint, nor has it made any claims that are not true. It is simply 100% Coconut water, nothing removed and nothing added and comes from a coconut plantation in Thailand.
Jonathan Newman is the CEO and founder of CHI. He was on holiday in Thailand a few years ago and had the opportunity of trying some fresh coconuts and drank up to five every day whilst he was there (who wouldn't when they are literally dropped all over the beach!).  Jonathan felt so much healthier, much more energy and clear headed. He was hooked!  He couldn't forget the taste of the those fresh coconuts and searched high and low for a brand he could purchase back here in the UK that reminded him of the real coconuts. Whilst there were quite a few brands to choose from, none really lived up to the memory of the ones he had in Thailand. And, after doing some investigation, he discovered that so many of the coconut waters, were making false claims and were just not good quality.
It got him thinking that he could produce a much better quality coconut water and set out to make this thought come true.  Fast forward a few years later, and CHI is about to become one of the most popular coconut waters around. Why? Well it just tastes out of this world! The closest taste possible to the real thing! In blind taste tests where CHI was lined up next to other brands, CHI always came out as the most enjoyed!
I was sent a case today (Lucky meeee!) and opened it straight away, and after the first taste I knew it was the best I had ever tasted.  The after taste is like that of a fresh coconut and its sweet, but, not in a sickly sweet fake way.  I gave some to my friend that was here and he said its the best he had ever tried, as well as my husband, and my little dog coco lapped it up too. And, I also gave a bit to Lola who absolutely went nuts for it! I have to be careful as she might go off my milk!
I don't think my case of Coconut waters is going to last long in my house, there are three adults here who love it, but I am very pleased to see that it comes in two sizes, a small size is 330mls (thats the carton I have) and housed in a high quality tetra pack. These can be recycled too.  The large size is 1 litre (tetra packed too) and you can purchase also in a carton of 12 (12 litres of bliss!) in it.  This is the one I recommend because you will just want to have it available at all times and a 12 pack of this size is going to make sure you have coconut water all month long. Or longer if you can refrain yourself from drinking all of them! If you have kids and want them to go to school with something healthy rather than them drinking sugary juices, then you can purchase the carton of 330 mls ones.
Jonathan is a pretty cool guy by the way, he is a film director, traveling the world to exotic places and meeting some pretty fascinating people.  He has directed Aussie superstars Sam Neil and Toni Collette to name a few in his movies and CHI now has a celebrity following.  Jonathan has made sure that despite leading a pretty glamorous life, the profits from CHI is going to good use.  He has created One Seed One Life  – which provides some of the most poor orphanages with food, clothing, medical help, Doctors and education.  85% of the charity money goes to these orphanages.  Thailand is still recovering after that awful Tsumani a few years ago, so in much need of help like this.
I can't speak more highly of CHI coconut water, it's just so yummy, beautifully packaged, ethically sourced, and your purchase also goes to something good.  Whats not to love?
For info on where you can purchase please ciick here!  You can purchase in the UK, Europe and Australia! 
Chi available at 14
Revital Health Foods Stores
If you are looking to buy coconut water in the UK (or in London), Chi 100% Pure coconut water is now available at 14 Revital Health Food stores across London.
Click here to find one near you:
https://www.revital.co.uk/shops
UK Actress and Model Keeley Hawes on
her choice of Chi Coconut Water
UK actress and former model Keeley Hawes, star of Upstairs Downstairs and Espionage thriller Spooks was spotted drinking Chi coconut water in between takes shooting her latest film in the UK. Keeley is a die hard coconut water fan and recently discovered Chi.
With hectic filming schedules, Chi is a perfect way to keep energised and hydrated during long shooting hours.
CHI MD Jonathan Newman comments "It's great to see so many people, especially celebrities embrace Chi, not only for it's health benefits but for the ethics of the company."  Chi started the Thai charity "One Seed One Life" which delivers supplies to the most dilapidated orphanages in Thailand. The charity began in 2012 and has successfully delivered supplies across the country.  "We believe business should give back to the community.
As we source our rawmaterial from Thailand, I have seen first hand the poverty across the parts of the country. For us it is not just about making a profit, it is equally about ethical trading and supporting the community."
Chi Coconut
Water review
What a lovely review of Chi 100% Pure coconut Water:
"On our visit to the Natural and Organic Show this year we spotted that coconut water was everywhere!  Amongst heavy competition the brand whose water really stood out for us was Chi; with a premium and modern approach to their packaging, they caught our eye and the water itself tasted pure and sparkling clean.  I am not mad about coconuts, you would have to twist my arm to make me eat a bounty bar, but, this water is incredibly refreshing, thirst quenching and yet moreish.  Most importantly it is fat free, low in carbs (whilst still containing more potassium than a banana), is low in sugars and hydrates quicker than water.  Chi Coconut water (£20.28 for 12) is packed with electrolytes so it acts like a sports drink but without the nasties, Summer in a bottle.:
Source: http://www.dandelionbaby.co.uk/coconut-water/
Many thanks Dandelionbaby!
Hollywood Celebrities love Chi
100% Pure Coconut Water
Hollywood celebrity Ioan Gruffudd (also known as Mr Stretchy from Fantastic Four) loves coconut water.  He can be seen here on set in between takes relaxing with Chi 100% pure coconut water. Ioan has been a fan since Chi started.  We wish him luck on his next movie!
Celebs such as Madonna, Rihanna and Gwyneth Paltrow all rave about the health benefits of pure coconut water. In the UK the industry is set to to reach £100m by 2014. Chi is fast becoming the number one coconut brand with stiff competition from the likes of US owned Vita Coco.  Having launched in January, 2012, Chi became an online best-seller within 2 weeks.  MD Jonathan Newman is clear why: "I personally made it my mission to source the best coconuts I could.  I traveled the world until I found the best plantation with the highest quality raw material.  Consumers want the highest quality at the best price, and that is what we offer."  With one of the only 330ml sizes with a resealable screwap, Chi has all the makings of a winner. Other smaller brands include Gococo, Biona, and Cocofina.
To find out more visit www.chidrinks.co
Or find CHI on FACEBOOK 
WHERE TO BUY COCONUT WATER IN THE UK:
You can purchase Chi from leading UK boutique supermarkets including Planet Organic, Wholefoods, Revital and independent stores across the country.
Rehydrate with Coconut water
after Bikram Yoga
Great video review of our drink in Australia:
Thanks to Rory from ALL ABOUT WHOLEFOODS:
https://www.facebook.com/allaboutwholefoods
Coconut Water
Nutrition
(Article reprinted from: http://www.nutrition-and-you.com/coconut-water.html)
"Coconut water is the juice in the interior or endosperm of young coconut. The water is one of the nature's most refreshing drinks consumed worldwide for its nutritious and health benefiting properties.
Its juicy water is usually obtained by opening a tender, green, healthy, and undamaged coconut. The liquid is clear, sweet, and sterile and composed of unique chemicals such as sugars, vitamins, minerals, electrolytes, enzymes, amino acids, cytokine, and phyto-hormones. In general, young and slightly immature nuts harvested when they are about 5-7 months of age for drinking purpose.
Botanically, coconut plant belongs to the Arecaceae family of palm trees and has scientific name: Cocos nucifera.
Each nut may contain about 200 to 1000 ml of water depending on cultivar type and size. Any nuts younger than 5 months age tend to be bitter in taste and devoid of nutrients. Whereas, older nuts have less water and their endosperm becomes thicker as white edible meat (kernel). Coconut milk obtained from the meat is therefore should not be confused with coconut water.
Coconut palm flourishes well along the costal tropical environments. A coconut tree may yield several hundred tender nuts each season. Several hundred species of coconut palm grown all over the tropics, so taste and flavor of water thus vary according to saline content, distance from sea shore, mainland etc.
Health benefits of coconut water
Coconut water is a very refreshing drink to beat tropical summer thirst. The juice is packed with simple sugar, electrolytes, and minerals to replenish hydration levels in the body.
Research studies suggest that cytokinins (e.g., kinetin and trans-zeatin) in coconut water showed significant anti-ageing, anti-carcinogenic, and anti-thrombotic effects.
Coconut water has been generally offered to patients with diarrhea in many tropic regions to replace fluid loss from the gastrointestinal tract and reduce the need for intravenous therapy. The osmolarity of tender coconut water is slightly greater than that of WHO recommended ORS (Oral Rehydration Therapy) osmolarity. Presence of other biological constituents like amino acids, enzymes, minerals, and fatty acids may account for this higher osmolarity. However, unlike WHO-ORS, its water is very low in sodium and chlorides, but rich in sugars and amino acids. This well-balanced fluid composition with much needed calories would be an ideal drink than any other brand of soft drink beverages in dehydration conditions.
Coconut water is composed of many naturally occurring bioactive enzymes such as acid phosphatase, catalase, dehydrogenase, diastase, peroxidase, RNA polymerases etc. Altogether, these enzymes aid in digestion and metabolism.
Despite very light consistency, its water has much better composition of minerals like calcium, iron, manganese, magnesium, and zinc than some of fruits like oranges. (Compare mineral composition oforanges).
Its water is also a very good source of B-complex vitamins such as riboflavin, niacin, thiamin, pyridoxine, and folates. These vitamins are essential in the sense that body requires them from external sources to replenish.
Coconut water contains a very good amount of electrolyte potassium. 100 ml of water has 250 mg of potassium and 105 mg of sodium. Together, these electrolytes help replenish electrolytes deficiency in the body due to diarrhea (loose stools).
In addition, fresh coconut water has small amount of vitamin-C (ascorbic acid); provides about 2.4 mcg or 4% of RDA. Vitamin C is a water-soluble ant-oxidant.
See the table below for in depth analysis of nutrients:

Coconut water (Cocus nucifera), Fresh,
Nutrition Value per 100 g
(Source: USDA National Nutrient data base)

| Principle | Nutrient Value | Percentage of RDA |
| --- | --- | --- |
| Energy | 19 Kcal | 1% |
| Carbohydrates | 3.71 g | 3% |
| Protein | 0.72 g | 1.5% |
| Total Fat | 0.20 g | 1% |
| Cholesterol | 0 mg | 0% |
| Dietary Fiber | 1.1 g | 3% |
| Vitamins | | |
| Folates | 3 µg | 0.75% |
| Niacin | 0.080 mg | 0.5% |
| Pantothenic acid | 0.043 mg | <1% |
| Pyridoxine | 0.032 mg | 2.5% |
| Riboflavin | 0.057 mg | 4% |
| Thiamin | 0.030 mg | 2.5% |
| Vitamin C | 2.4 mg | 4% |
| Vitamin A | 0 IU | 0% |
| Vitamin E | 0 mg | 0% |
| Vitamin K | 0 mcg | 0% |
| Electrolytes | | |
| Sodium | 105 mg | 7% |
| Potassium | 250 mg | 5% |
| Minerals | | |
| Calcium | 24 mg | 2.4% |
| Copper | 40 mcg | 4.5% |
| Iron | 0.29 mg | 3.5% |
| Magnesium | 25 mg | 6% |
| Manganese | 0.142 mg | % |
| Zinc | 0.10 mg | 1% |
| Phyto-nutrients | | |
| Auxin (Gibberlin) | Present | — |
| Carotene, beta | 0 µg | — |
| Cytokines | Present | — |
| Lutein-zeaxanthin | 0 µg | — |
| Leucoanthocyanin | Present | — |
Selection and storage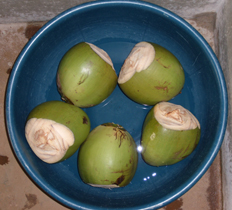 Tender coconuts ready to use.
Fresh tender coconuts are readily available in the markets in tropical countries all around the year. However, in the semitropical and cold regions they have to be imported. These days, however, shelled tender coconuts are made available in USA and Canada imported from Thailand and Malaysia.
In the stores canned coconut water available, however, they have some added preservative and not up to the mark in vitamins and enzyme levels.
Tender nuts can be stored at room temperature for about 5-10 days. Once opened the water should be used soon otherwise it will turn sour in taste and off flavored. Instead, store in refrigerator if not used immediately.
Preparation and serving tips
Refreshing coconut drink.
Iced coconut juice with tender coconut meat topping.
Photo courtesy: Andrew currie.
Tender coconuts chiseled at bottom end using long sickle and the tip of the shell is cut open. The water is then sipped using straw. Otherwise, the whole nut is tilted upside down to transfer its water in to wide mouthed bottle or bowl.
Drink coconut water without any additions.
Iced coconut water can be a refreshing drink.
Gel like meat (kernel) in the young tender coconuts is very sweet and delicious.
Safety profile
Coconut water is a universally appealing drink. There are no known reactions of any sort notified so far using it. It is not only cherished in healthy but is considered safe in pregnancy, infants as well as in diseased conditions as well. (Medical disclaimer).
Note:
The discussion in this page is solely dedicated to water or solution of young coconuts and not about coconut milk, meat, coconut oil or any products of coconut tree."
How drinking Coconut Water can
help you shed pounds
(Article reprinted from Shed Pounds: http://www.fitday.com/fitness-articles/fitness/weight-loss/how-drinking-pure-coconut-water-can-help-you-shed-pounds.html)
"Pure coconut water  is an ideal drink if you want to hydrate your body. It is also a drink that embodies the very essence of nature: it is biologically pure, and full of salts, sugars and vitamins. With all these natural properties, it is a pure drink which is well-suited to keeping away fatigue and a general feeling of lack of energy. Drinking pure coconut water has been discovered to give benefits in the area of helping you shed unwanted pounds. A prime reason is because it is a health drink, above all else. Tropical cultures know all about the weight-loss benefits, as well as other benefits of pure coconut water, because they have been using it for centuries.
Metabolic Rate
What drinking pure coconut water has been shown to do is increase your metabolic rate. In this way, drinking pure coconut water can help you shed those pounds because it will actually raise your metabolic rate. Here is how it works. Coconut water is a great way to keep you hydrated, and if you are hydrated, you are less likely to store fat in your body to help raise your body temperature. Your body temperature drops a little bit if you are dehydrated. During dehydration, your metabolism is affected negatively in this way. Fighting off this weight increase that you would experience from being dehydrated is one reason why drinking pure coconut water helps you shed pounds.
Diuretic
The noun diuretic refers to a fluid (mainly drugs) that forces you to urinate with more frequency. A diuretic is usually used to cleanse the body of unwanted drugs, such as in the case of an overdose. However, coconut water is nature's diuretic, and drinking enough of it will cause your waste to pass through your system with greater ease and, thus, greater speed. It is in this fashion that coconut water can help you shed your unwanted pounds, by ridding your system of said waste.
However, note that in this weight loss fashion, you are not actually losing fat; you are just losing more liquid. While this loss of liquid does show up on any weight scale as factual weight loss, it is oftentimes only temporary and can even be hazardous when abused to excess. In the case of coconut water, though, it is not a powerful diuretic, so it cannot be easily abused.
Beneficial Properties
The final way that drinking pure coconut water can help you shed pounds is due to its favorable properties. It has absolutely no cholesterol, so drinking more coconut water in place of beverages that have cholesterol is an automatic inducer of weight loss. Fat-wise, coconut water contains less fat that even milk, which means you stand to gain less weight or even lose weight than if you continue drinking milk. In comparison to other popular drinks like orange juice, for instance, coconut water comes with fewer calories, meaning that if you substitute coconut water for orange juice, assuming you drink significant amounts of orange juice, you ought to shed some pounds."
Coconut Water
– WIKIPEDIA
An Excerpt from Wikipedia:
To read the full entry please click here:
"Coconut water is the clear liquid inside young coconuts (fruits of the coconut palm). In early development, it serves as a suspension for the endosperm of the coconut during their nuclear phase of development. As growth continues, the endosperm mature into their cellular phase and deposit into the rind of the coconut meat.[1] Coconut water has long been a popular drink in thetropics, especially in Southeast Asia, Pacific Islands, Africa, and the Caribbean, where it is available fresh, canned, or bottled.
Coconuts for drinking are carefully packaged and sold in many places. These are typically Asian coconuts whose outer green husk has been removed, and the remainder wrapped in plastic. Throughout the tropics they can be found sold by street vendors, often cut in front of customers to ensure the coconut water's freshness. Coconut water can also be found in ordinary cans,tetra paks, or plastic bottles (sometimes with coconut pulp or coconut jelly included). Bottled coconut water has a shelf life of 24 months.[citation needed]
In recent years, coconut water has been marketed as a natural energy or sports drink due to its high potassium and mineral content. Marketers have also promoted coconut water for having nofat and very low amounts of carbohydrates, calories, and sodium. However, marketing claims attributing tremendous health benefits to coconut water are largely unfounded.[2]
Unless the coconut has been damaged, it is likely sterile. There have been cases where coconut water has been used as an intravenous hydration fluid in some developing countries where medical saline was unavailable.[3]
Health Benefits of
Coconut Water
Read a great article about the health benefits of coconut water:
http://www.knowledgebase-script.com/demo/article-320.html
Why Celebrities are shelling
out on Coconut Water
(ARTICLE REPOSTED FROM METRO, 23rd May, 2010)
Read more: http://www.metro.co.uk/lifestyle/827437-why-celebrities-are-shelling-out-on-coconut-water#ixzz1sgE8HoEG
"Health-conscious celebrities are going mad for coconut water. Metro finds out more about the drink of the summer.
Ever since humans worked out how to crack that thick, fibrous husk, coconut water has been quenching the thirst of the sun-drenched tropics. But with the secret finally out among celebrities, this looks like being the summer we all go crazy for the stuff.
In the 12 weeks up to April, one brand reported a 600 per cent jump in sales on the previous quarter, a leap that reflects the sudden buzz surrounding a drink that has been around for millennia.
In its native lands, the coconut palm is known as 'the tree of life' because it has so many uses, from root to spiky crown.
Most people are familiar with coconut cream – so delicious, so fatty – but what we don't often see in Britain is coconut water, which comes from younger, green fruit.
In the past couple of years, however, US and European markets have started to cotton on to the benefits of this new so-called wonder drink.
Several brands have appeared on the shelves but the one that's making its mark is Vita Coco (below, from £1.49 for 330ml), thanks to its popularity with celebrities including True Blood actress Anna Paquin, Courteney Cox, Star Trek star Chris Pine, Gossip Girl's Ed Westwick and Jessica Simpson, all of whom have been snapped with a carton. And it doesn't stop there: Madonna has reportedly ploughed $1.5million into the company, along with fellow investors such as Demi Moore, Matthew McConaughey and Red Hot Chili Peppers frontman Anthony Kiedis.
Given these celebrities are better known for their bodies beautiful (even Kiedis is a vegetarian meditation devotee) than their investments, there must be more to the coconut water trend than the mere vagaries of fashion.
Susie Perry, a nutritional therapist who has worked with the likes of Yvette Fielding, Amanda Lamb and Claire Sweeney, says: 'It's beneficial to our bodies because it contains a lot of natural electrolytes. As a nutritionist, I like it because it's a low-sugar, fast-hydrating drink.'
Electrolytes are minerals that are vital for bodily functions such as muscle movement, nerve transmission and brain operation, and coconut water contains five essential examples: potassium, magnesium, calcium, sodium and phosphorous.
Perry says: 'Potassium is one of the most important electrolytes there is. One of its important is to help maintain water balance – a good level of potassium helps you to maintain water pressure within a cell and water pressure within the blood. So, as it can help draw water into cells and into the blood, it enables the body to rehydrate quickly.'
Nutritionist Lorna Driver-Davies, from Nutri Centre, agrees, saying these electrolytes 'rehydrate the body and reduce feeling of fatigue' after exercise.
A 330ml serving of pure coconut water contains more potassium than two bananas. This hydrating aspect explains why coconut water is gaining popularity as an alternative to sports drinks such as Lucozade.
A study of post-exercise rehydration carried out by the Universiti Sains Malaysia compared coconut water, sports drinks and normal water. It found coconut water was 'significantly sweeter, caused less nausea, fullness and no stomach upset', concluding that it was the best option for thirsty athletes.
Perry explains: 'Although drinking water can hydrate you, it doesn't have that speed of hydration [of coconut water] because it doesn't have the electrolytes in it. You can compare coconut water to a sports drink but without all the caffeine and sugar in it.'
Those electrolytes can also prevent muscles from going into cramps and spasms. But beware of drinking too much – it can also have a laxative effect.
Laxative qualities aside, it's also being touted as an aid to slimming – or, at least, reducing fluid retention. 'If someone has a high-salt diet they'll retain a lot of water – getting potassium into the body reduces water retention, so in that sense it can help,' Perry says. 'Also, potassium is very important to the cell membrane; it acts like a key opening up cell receptors so that nutrients and water can go in and out of the cells at appropriate times and amounts. And so, potassium can help with the communication that has an impact on metabolism.'
Of course, coconut water is no magic potion – if you want to shed a few pounds, you're better off relying on it to quench your thirst after regular exercise. Although it may not contain as many ingredients as your average energy drink, the coconut does have a few tucked away beneath that thick shell.
Driver-Davies explains: 'Coconut water contains high levels of lauric acid, which the body uses to make monolaurin, a disease-fighting fatty acid derivative. Lauric acid has anti-fungal, antibacterial and antiviral properties that protect the body against various infections and boost the immune system.'
Coconut water has also been claimed to help lower blood pressure, fight cellulite, reduce the risk of cardiovascular disease, keep you cool, improve circulation, regulate digestion and ease stomach pain – in fact, if you believe it all, it's the best thing to come out of the tropics since the Bounty bar."
Read more: http://www.metro.co.uk/lifestyle/827437-why-celebrities-are-shelling-out-on-coconut-water#ixzz1sgEDAkPK
Australian Actress Melissa George on
her Choice of Coconut Water
"My new best friend!" – Melissa George drinks CHI after a long day filming her new series for the BBC.
Best selling Coconut
Water on Amazon
As of writing, Chi is the best-selling Coconut Water on Amazon. After only a week, we are ranked 5 in 'Energy Drinks' category and 8 in Fruit Juices and Smoothies.
If you are looking to purchase Coconut Water in the UK, visit our site now.  Our expansion plans mean you will be able to buy Chi in your local supermarkets in March 2012.  While unconfirmed, we hope you will be able to purchase Chi Coconut Water in Tesco, Waitrose, Sainsbury's, Asda, Morrison's, and Whole Foods.
Buy Coconut Water
in UK
Did you know you can buy CHI coconut water in the UK?
Chi comes in cases of 12 in both a 1 litre and a 330ml portion size.
To purchase CHI coconut water, click here.
Visit to
Ayutthaya Orphange
Our latest visit to deliver supplies to an orphanage in Thailand, as part of the One Seed One Life Charity Project.  A portion of all proceeds from Chi Coconut Water goes towards One Seed One Life.
https://www.facebook.com/media/set/?set=a.269637946435665.65869.117823384950456&type=1
Visit to
Thai Orphanage
Chi Coconut Water  David and Isika  make one of many visits to an orphanage in Thailand.  Along with basics such as rice, we brought presents and toys.
http://www.facebook.com/media/set/?set=a.233597976706329.58946.117823384950456&type=3
CHI Coconut Water to attend
Food & Drink Expo, 2012

Chi is delighted to be exhibiting at the UK's largest Food Show, the Food and Drink Expo, at the NEC Birmingham 25-27 March 2012.
Be sure to stop by and visit us where you can also taste our premium 100% pure coconut water, available to purchase in the UK, Australia and Europe now.
Chi Coconut Water for Sale
In UK and Europe On-Line
Chi Drinks Founder and MD today announced that Chi Coconut water will be sold on Amazon and also directly through the Chi website. Giving the serious players a run for their money, Chi is already causing quite a buzz in the marketplace.
(London, England), 14 January 2012
Chi Founder Jonathan Newman today announced that Chi 100% Pure Coconut Water will be sold through Amazon and also directly through the Chi website. Offering both a 330ml portion size and a 1 litre version, Chi will be sold by the case of 12.
The health benefits of Chi are numerous. Taken from inside a coconut, it is the water (not the milk) that contains twice the amount of potassium than a banana. As a result, coconut water has become a favorite drink amongst athletes and the drink du jour amongst celebs in the know.
"Our coconut water is picked from the sweetest Thai coconuts we could find. It is packed with minerals and electrolytes that hydrate the body quicker than water," Newman comments. "I am a total convert and have been committed to creating the highest quality product I could."
Chi is definitely giving the big players like Vita Coco and Zico a run for their money. With gorgeous eye-catching packaging, and a stand out proposition, it is no wonder Chi is causing such a buzz. "We only use pure coconut water, not from concentrate like Zico," comments Newman. "We also wanted to stand out from the growing market as everyone was called something coco. Chi means LIFE FORCE and that's what our product is all about. The life force that runs through us all. Restoring balance."
Chi has also caught the eye of celebs, with Fantastic Four star Ioan Gruffudd and wife Alice Evans amongst Chi's die hard fans.
Newman also built a custom portal on the Chi facebook page. "We all know how social media has become a part of everyday life, but we feel we want the user experience to be richer, that's why our facebook page offer so much more than just browsing. Without leaving the page, you can purchase our product."
If that's not more, CHI coconut water also donate a portion of every pack sale to the One Seed One life Foundation, a charity providing supplies and supporting charities across Thailand. "We've already made our first visits to the orphanages, and it's great to be in a position to help those less fortunate then ourselves," comments Chi co founder David Mendelsohn, who heads up Chi's Asian operation.
The coconut water industry is set to grow by 50% in 2012, already making in a billion dollar industry worldwide. It shows no signs of being just a passing trend. Chi is definitely climbing that ladder very fast.
To find out more, visit the CHI WEBSITE.
Coconut
Desserts
Since I started Chi Coconut Water, I've become an enormous fan of everything Coconut.
I discovered these amazing little Thai desserts which I bought from Gerrard Street in London's Chinatown.
They are called Ta-Kohs.  It is made from coconut on the top, and then there is a green pandan flavoured jelly beneath with water chestnuts inside.  Really delicious!
I also bought a tin which had coconut meat and tapioca pearls in coconut milk.  A strange dessert but tasty nonetheless.
And to my delight I found a fresh young whole coconut at the supermarket.  Of course I had to buy it because you never see green coconuts in London.  Chilled it at home and drank it.  Glorious.
Hits The
Chi Spot
Hits the
Chi Spot
Hits the
Chi Spot
Hits The
Chi Spot
Our Journey
began here…
I knew that the success of this product would be where and how we source our raw material from.  That is why myself and David made the trip to Thailand to find the perfect coconuts. This trip would not have been possible without the assistance of Isika, who helped us find our way around, translate and navigate our way through a foreign culture. An amazing journey and a wonderful start to the Chi Coconut Water project.
https://www.facebook.com/media/set/?set=a.232076040191856.58679.117823384950456&type=1
Coconut Water
Cocktails
We found this article on coconut water mixers.  Might try some with Chi Coconut Water.
Liquor plus coconut water: what they actually like down there
By David Wondrich
There are tropical drinks and there are tropical drinks. On the one hand, you've got the things that deploy various fruit juices, obscure liqueurs, spiced syrups, an array of gaudy garnishes, and enough rum to anesthetize a manatee. In the hands of a skilled, tiki-obsessed bartender, these things can even be delicious. On the other hand, there's what people who actually live in the tropics drink. Should you follow the guy behind the swim-up bar who's been making you Bahama Mamas all afternoon to the place he goes to unwind after a long day of intoxicating tourists, you won't find him drinking anything with a plastic monkey hanging over the rim. If he's drinking booze at all (and not cold, watery beer), it'll be poured into a glass and topped off with a splash of fresh coconut water, with maybe an ice cube or two. Which means he'll be drinking something far more refreshing, down-to-earth, and even wholesome than what he served you.
Note that coconut water is not coconut milk. You get that by blending the white meat of the coconut with water; it's thick, oily, and coconutty. You get coconut water by hacking through the green, fibrous outer husk of a young coconut, punching a hole in the brownish shell, and letting out the pint or so of slightly sweet, slightly briny juice that's within. Now, outside the tropics whole green coconuts can be hard to find, although Caribbean markets sometimes have them and in summer months Asian markets often sell shrink-wrapped versions that have been trimmed into little pointy-topped yellow cylinders. But bottled or canned coconut water can also be fine, as long as it's unsweetened and unflavored. Within the last few years its antioxidant and electrolytic properties have brought it to the attention of the likes of Whole Foods, and good brands such as Vita Coco (a little sweeter) and Zico (a little drier and nuttier) are widely distributed.
As a mixer, coconut water is unlike anything else: It's not sweet — well, maybe a little. It's not fruity, juicy, or fizzy. It is subtle, nutty, and hydrating. Mixed with spirits, it has a pleasant way of disappearing into the mix, stretching and smoothing out the flavor without stepping all over it. Nor does it go with only rum, although it goes very well indeed with that. In Jamaica, Trinidad, and elsewhere in the Caribbean we've had it mixed with gin, Scotch, and Dutch genever. In Mexico they mix it with tequila. In Sri Lanka, with palm-sap arrack. Indeed, you can mix it with almost anything — almost. Sometimes it reacts a little strangely with the booze. Bearing that in mind, we've prepared a little chart, based on an admittedly subjective tasting we had of each of 19 different categories of spirits from around the world mixed with Zico coconut water, two parts of the latter to one of the former. (About the only major category we omitted is vodka. If you like coconut water, you'll like it with vodka; if you don't, you won't.)
Booze + Coconut: An Exhaustive Grading
Refreshing 
Rum (amber Trinidadian): Nectar, A+
Genever: Mellow and spicy, A+
Rum (overproof Jamaican): rich and funky, A
Pisco: Bright, clean, and refreshing, A
Scotch (blended): Something that blends with Scotch! A
Gin: Good if you like gin, A-
Cognac: Good if you like cognac, A-
Curiously tasty
Tequila (silver): Needs further research, B+
Applejack (bonded): Crisp, B+
Arrack (Sri Lankan): A bit odd, B+
Cachaça: Somewhat watery, B+
Absinthe: Surprisingly tasty, B+
Irish whiskey: A bit dull, B
Mezcal: Doesn't do much, B
Aquavit (aged): Musty, B-
Not recommended 
Rye: Weird caraway note, C+
Bourbon: Tastes like peanut butter, C
Canadian whisky: Tastes like condensed milk, C
Slivovitz (plum brandy): Mustier than the aquavit, C-
Moutai (Chinese sorghum-based liquor): Undrinkable, D-
And: Summer in a Bowl
On a hot day, there's nothing more refreshing or easier than putting out a bottle of booze, a bowl of ice, and a pitcher of coconut water. But that's not the only way to dispense those ingredients, as William Talboys of the New York Yacht Club discovered when he dropped anchor at Bridgetown, Barbados, back in 1874. There he met a gentleman who treated him to a bowl of coconut-water-infused Barbadian punch such that he was forced to admit that he had "no expression strong enough to describe [his] entire respect for it." That punch was based on genever, but one just as toothsome can be made with Barbadian rum.
Barbados Punch
In a 3-quart bowl, dissolve ¾ cup superfine sugar in ¾ cup fresh-squeezed lime juice. Fill bowl three quarters of the way with ice cubes. Add 1 750-ml bottle Bols genever or Mount Gay Eclipse rum, 2 cups coconut water, and 2 cups water. Stir. Drink. Serves 10.
Read more: http://www.esquire.com/features/drinking/tropical-drinking-0811#ixzz1dxSye9JF
Health benefits of
coconut water
Posted by James Park on Sep 15, 2011 in Health, Healthy Foods
Coconut water, coconut juice drinks, or coconuts in general, are almost synonymous to the island tropics. However, there is more to coconuts than meets the eye. Aside from the promise of a relaxing beach holiday, coconuts also promise health.
The coconut has innumerable health benefits, as such it is aptly called the 'tree of life'. In fact, coconut water or the clear liquid within the fruit has been used by multiple manufacturers in the health industry as the primary ingredient for natural supplements. Indeed, the nutrition facts of coconut water exceed that of other mass-produced supplements.
But how exactly can it improve your health? Read on to learn more about the health benefits of coconut water and coconut juice drinks.
Strengthens the Immune System
One of the nutrition facts of coconut water is its high levels of lauric acid, which improves the body's defenses against disease. Lauric acid has anti-bacterial, anti-fungal and anti-viral properties that contribute to your immune system's defense mechanism. A newborn child gets his or her lauric acid supply from breast milk to become less susceptible to disease and infections. For adults, natural coconut juice drinks are the best alternative.
Aids Metabolism
Dietary pills can be replaced with this drink, too. It has the ability to trigger faster metabolism with its wealth of natural ingredients that control blood sugar. Blood sugar is not only important to diabetics but healthy people as well. With an increase in metabolic rate, your body is burning through the insulin and complex sugars faster. This gives you more energy to do other activities, such as exercise, to manage your weight.
Replenishes Hydration Levels
Another one of the benefits of coconut water and coconut water juice drinks are their ability to restore lost body fluids. It is even better than water since it has electrolytes important in rehydration. It also offers an alternative to commercially-made isotonic drinks. People suffering from diarrhea and dehydration can drink coconut water to replenish body salts and liquids, too.
Cleanses the Urinary Tract
One of the nutrition facts of coconut water is that it is a natural diuretic. As such, it helps regulate the flow of urine by increasing the rate of urination. With frequent urine flow, chances of having urinary tract infections are decreased. This natural juice drink is also a recommended remedy for bladder infections and kidney stones.
Eliminates Intestinal Parasites
Children often have parasitic worms because of lack of hygiene. To substitute over-the counter anti-parasitic medicines, sterile coconut water can be used. Drinking a mixture of one glass of coconut juice and one teaspoon of olive oil for three consecutive days can get rid of these worms and flush them out of the system. For recurring symptoms, consult the doctor.
Substitutes Human Blood Plasma
Coconut water as a substitute of human blood plasma was first used during the World War II, when medical supplies were scarce. It is isotonic to human blood and has right amount of electrolytes which makes it acceptable for plasma transfusions. In addition to the benefits of coconut juice, it can be used as a disinfectant for wounds. Remember though to use coconut water only when acquired straight out of the fruit.
Coconut water and coconut juice drinks are best when fresh, raw, natural or organic, so be sure  to chose only natural product.
CHI Coconut Water launches
in UK and Australia
London, UK, Sydney, Australia (PRWEB) 10 November, 2011 – – It is the latest craze, and celebrities like Madonna and Rihanna have been queuing up to drink it. In case you have had your head buried in the ground, we're talking about coconut water. Joining this fast growing category in both the UK and Australia is newcomer CHI (which means Life Force).  Packed in both 330ml and 1 litre tetra packs,  Chi is 100%  pure and natural with no added ingredients, no added sugar, is fat free and low calorie.  The health benefits of coconut water are numerous. It hydrates the body quicker than water due to the high 'electrolyte content', making it a favourite drink for athletes, yoga practitioners and slimmers alike. Even celebs like Gwyneth Paltrow use coconut water to aid in slimming as part of a calorie controlled diet.
Chi Coconut Water is the brainchild of entrepreneur Jonathan Newman. "I became passionate about coconut water when I was in Thailand on honeymoon, and used to drink five or six raw coconuts a day. I noticed how good I felt, how my fatigue and blurry eyes got better, and of course how tasty it was," commented Newman. "When I got back to the UK I started looking at packaged coconut juice drinks, just as a consumer. I couldn't find one that I particularly liked. Most of the big American brands used Brazilian coconuts, which taste quite bitter. They all seemed to have a bit of an aftertaste. Yet people just drank it because of the nutritional benefits, even though they didn't necessary like it. I just thought there is room to do so much better."
After raising the initial seed capital necessary to finance the development, Newman headed back to Thailand and drove around the country visiting plantations, meeting farmers, and buying coconut water from streets in every region. "There, on a little street in the middle of nowhere, we found the sweetest coconut water we have ever tasted," comments Newman. "It was fantastic. We quickly went and met the owners of the plantation, and felt certain we had a product that differentiated itself from every other coconut water on the market."
With big players like Vita Coco, Zico and One accounting for most of the US market share, Chi Coconut Water is already making inroads into the market. "I feel confident we have a unique proposition," says Newman. "We excel in taste, packaging and nutritional content. Our 330ml is currently the only tetrapak on the market to feature the new Dreamcap opening. People want premium quality at an affordable price and that's what Chi offers."
With stunning packaging and a naturally sweeter taste, Chi Coconut Water is taking the market by storm and already boasts an impressive following, with celebs such as Ioan Gruffudd (Fantastic Four, The Ringer) and wife Alice Evans (Vampire Diaries) counting themselves as hardcore fans. "As keen yoga enthusiasts, Chi Coconut Water is just what we need to rehydrate and balance our bodies quickly." Comments Gruffudd.
It seems coconut juice drinks hit a chord with athletes and celebs alike who lead active lifestyles. Tennis player John Isner drinks coconut water during his tennis matches for the high potassium count (double that of a banana). Other celeb fans of CHI Coconut Water include cult film star Jonathan Silverman (Weekend At Bernies) and wife Jennifer Finnigan (Better With You). "I've tried every coconut water on the market, and trust me, I'm fussy. Chi is by far the best we've had." comments Silverman and his wife.
Launching simultaneously in Australia as well as the UK, Aussie beauty Melissa George (In Treatment, Triangle) comments, "I love it, love it, love it. I lead a hectic lifestyle and Chi is perfect as the natural boost I need. Plus it's tasty, fat free and low calorie. What more could you ask for?"  Melissa, who first made her name in Home & Away (and who can forget the 'Hot Nanny' in friends) is making waves across the globe for her riveting performances.
"Coconut water really is nature's miracle fruit," comments Newman. "Research suggests that cytokinins in coco water showed significant anti-ageing, anti-carcinogenic and anti-thrombosis effects. The enzymes aid in digestions and help promote a healthy metabolism. It's even known to help eradicate eczema."

"Not to be confused with coconut milk, which is made from pressing the meat of the coconut, Coconut Water is the clear sterile liquid found inside the coconut," says Newman. "It's sterile quality makes it ideal as an alternative to inject intravenously where medical saline is unavailable in developing countries."

If that's not enough, Chi has also partnered with the charity "One Seed, One Life". A portion of every pack sale goes to helping children in the most dilapidated orphanages throughout Thailand. "Having personally visited these orphanages, it's a wonderful opportunity for our company to help children that have no home, no family and are born into poverty," comments Newman. "It is something we believe in quite passionately."
For more information  or Press Enquiries contact:
Chi Drinks Ltd
www.chidrinks.co
mail@chidrinks.co
Westbourne Studios
242 Acklam Road
London W10 5JJ
Tel: 0845 519 8806
Coconut Water
Comparison
Chi Coconut Water
Chi Coconut Water comes in 1 litre and 330ml Tetra Pak cartons.  It is 100% natural and Pure and contains no added sugar or preservatives.  Sweet taste due to Thai coconuts. Find out where to buy coconut water by clicking here.
Vita Coco
Vita Coco Coconut Water comes in 1 litre and 330ml.  Coconuts are sourced mainly from Brazil. Based in America.
Zico
Owned by Coca Cola. Comes in a variety of fruit based flavours in both bottles and tetra-pak.
Ingredients: Coconut Water (from Concentrate), water
One
One comes in 330ml tetra paks with a variety of flavours. Pepsi owns a majority stake in One Coconut Water.
Water sourced from Brazil and Phillipinnes
Coconut water
drink
Chi "coconut water" drink available in the UK.
Drink "Coconut water" (also known as coconut juice) to balance and hydrate your system.
Visit our homepage here: www.chidrinks.co
"Coconut water drinks" come in many varieties. You may be looking for tender coconut water, fresh coconut water, pure coconut water, raw coconut water or organic coconut water.
For tender coconut water benefits please click here.
If you want to compare coconut water drinks, like zico coconut water, or one coconut water, or alternate coconut juice click here.
Amazing that some people searching for coconut juice search for this "cocoanut juice"! Or even "cocoanuts juice". Some coconut drinks have added sugar. One coconut drink I know of is mixed with sugar and water. You can be sure that Chi coconut juice is a pure coconut juice drink.