Delicious Winter Inspired
Hot Drinks!
We think that winter is a great time and season for creativity and new beginnings. Whether you're wrapped in a blanket on your couch or out playing in the snow, working behind a desk, there's wintry inspiration all around us, and there will be always something to share with our lovely readers!
These are the hot drinks we favour at this time of year: soothing chocolate for gentle evenings at home and a warm spiced almond milk for when you feel a little under the weather.
Honey And Camomile Hot Chocolate.
Something for bedtime, this is also a good way to curb a sweet tooth after dinner. (You can even ad a little shot of dark rum if it takes your fancy!)
(Makes 2 cups) 
500 ml almond milk
1 camomile teabag
100g good chocolate, broken up
2 tbsp honey
Heat the milk in a saucepan with the camomile teabag. When it is just about to boil, reduce the heat and simmer for a couple of minutes.
Take off the heat, remove the teabag and add the chocolate and honey. Ladle into cups and pop on to a little tray for bedtime.
Golden Turmeric Milk
This sunny yellow milk brightens us up when feeling under par. Try to have a little turmeric every day, usually in a tea; its healing properties have been widely celebrated. Allowing the milk to cool a little before you add the honey will stop the heat damaging the honey's nutrients. You can also make a peppy morning version with a little grated ginger.
(Makes 2 cups)
4 cardamom pods
½ tsp ground turmeric
½ tsp ground cinnamon
2 tsp runny honey
Bash the cardamom pods in a pestle and mortar and put them into a small saucepan with the milk, turmeric and cinnamon. Heat gently until almost boiling, no hotter – if you are using a non-dairy milk, it may split.
Pour into a mug – or strain it if the cardamom seeds bother you – and, once it has cooled a little, stir in the honey. Make sure you don't spill any, as the lovely yellow colour can be rather persistent.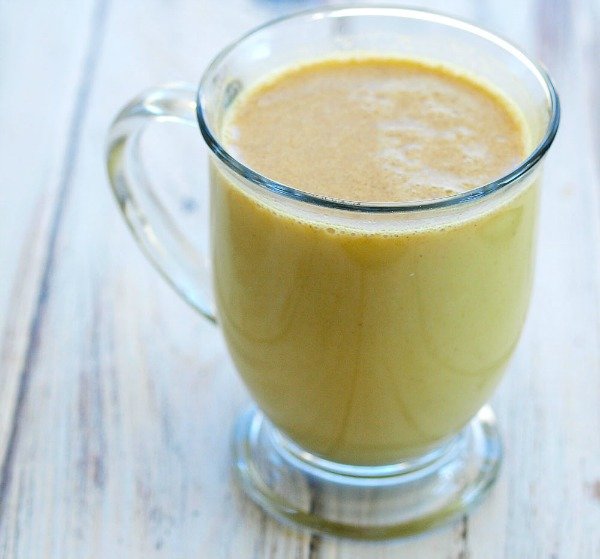 The Launch of Chi
White Oil Pulling!
Recently Chi has expanded its product range! We've just launched Chi White, an organic coconut oil pulling system. We're one of the only organic ranges on the market. You can currently receive an introductory discount of 10% when you enter 'Intro10%' at the checkout, so head over to Chi White website to enjoy!
What is oil pulling?
Oil pulling, also known as 'gundusha' or 'kavala', is an ancient Ayurvedic procedure for dental health that involves swishing oil in your mouth on an empty stomach for up to 20 minutes. This process draws out toxins from within the body to improve one's overall health but primarily to encourage better oral hygiene.
Coconut oil is the most popular choice of oil because it has impressive antibacterial properties in addition to lots of easily digestible, fat-soluble vitamins such as vitamin A, D, E and K. Vitamin A is great for building a strong immune system, vitamin D strengthens bones and teeth, vitamin E has antioxidant properties for the skin and vitamin K reduces blood clotting. Also, coconut oil has a nicer taste than other vegetable-based oils. Our range has a fresh minty flavour because it contains 1% organic peppermint oil so there is no need to worry about any nasty taste!
You should swish the oil around your mouth quite gently in order to avoid getting a stiff jaw. Some people new to oil pulling find twenty minutes to be a bit of a struggle and if this is the case why not try to keep the oil in your mouth for around 10-15 minutes and build this up as you become more used to the feeling. As you are swishing the product around your mouth the oil will double in size as it draws in saliva and toxins. When time is up, empty the contents of your mouth and rinse your mouth out with some warm water before brushing as you normally would.
How does it work?
When oil pulling, the oil in your mouth binds itself to the plaque on the teeth and therefore when spitting out the oil you are removing bacteria from your mouth. Oil pulling is a particularly efficient way to reduce this kind of bacteria because the plaque on your teeth is fat-soluble as opposed to water soluble. This means that the lipids must dissolve in fats, which is why coconut oil is the perfect remedy unlike other water-based products on the market.
What are the results?
Clinical trials carried out by the National Center for Biotechnology Information (NCBI) have shown that the benefits of coconut oil pulling include:
Improved oral hygiene
The prevention of cavities and gingivitis
Reduced oral bacteria
Reduced plaque
Whiter teeth (Please remember that each person's teeth will react differently to Chi White and that response times may vary)
So, what are you waiting for? Try Chi White today and remember to use the discount code for a great bargain!
Before and after using Chi White for just 2 weeks!
Chia
Puddings
Bored of your porridge? Let's try some Chia puddings to shake up your mornings! Chia seeds and coconut milk make a great combination high in omega 3, antioxidant and fibre. This breakfast will fill you up until lunch time and you'll save time, all you need to do is to mix together the ingredients the night before and in the morning just add your favourite toppings!
Coconut Chia pudding 
Ingredients
240 ml Chi coconut milk
40 grams chia seeds
Toppings
Coconut chips or coconut flakes
Blueberries or blackberry
Goji Berries
Method
1. Mix together chia seeds, coconut milk and put it in the refrigerator overnight.
2. Add the toppings
Chocolate Chia pudding 
Ingredients
240 ml Chi Chocolate coconut milk
40 grams chia seeds
Toppings
Banana
Chia seeds
Flax seeds
Method
1. Mix together chia seeds, chocolate coconut milk and put it in the refrigerator overnight.
2. Add the toppings
Fruity Chia pudding
Ingredients
250 ml Chi Raw coconut water
40 grams chia seeds
Toppings
All fruits that you like
Method
1. Mix together chia seeds, raw coconut water and put it in the refrigerator overnight.
2. Add the toppings
Mango Chia pudding 
Ingredients
240 ml Chi coconut milk
40 grams chia seeds
Toppings
Mango
Almond
Method
1. Mix together chia seeds, coconut milk and put it in the refrigerator overnight.
2. Add the toppings
Chef on a bike tells
us why he loves Chi
Who are you?
My name is Mario Presi, 39 years of age, Italian by birth. I come from the Veneto region (from Padova, near Venice) in north-east Italy. I grew up in Italy, and went to Catering College where I graduated in Hotel & Restaurant Management in 1995. I moved to London in 2001 and I haven't looked back since.
What is Chef on a bike?
Chef on a bike is me. It represents who I am via my profession (chef), and my passion for cycling around the world (on a bike).
Why did you set up Chef on a bike?
I wanted to help people improve their eating habits by educating them in what to eat, and why. This is great for athletes who want to improve their performance by enhancing their nutrition, but also good for the average person who doesn't compete in sport's but likes to keep fit, healthy and would like to improve their way of eating.
Why Do You Love Chi's products?
One of the products I came to love almost to the point to be obsessed about it is Chi 100% Organic Virgin Coconut Oil. I have tried and tested many coconut oils in the last 2 ½ years but Chi Coconut Oil has become my favourite. In fact, not only do I use and consume a 500g jar per month, but I also recommended to my clients and friends. You can use Chi Coconut Oil in your coffee, frying eggs or as a spread over toast.
Chi Coconut Water is also an item on my weekly shopping list, and it is by far my first choice.
You are an advocate of "clean eating", can you tell us more?
Clean eating means avoiding foods that are processed, artificial foods, or foods that have been genetically modified. These cause stress on your body, which can ultimately cause illnesses. Whole and unprocessed plant-based foods are full of vitamins, minerals, quality macronutrients, and antioxidants that the body needs for cellular regeneration. I prefer to eat these.
What's the story behind your cooking?
I worked for what was known at the time as Conran Restaurants, established by Sir Terence Conran and associates. I had the pleasure to work with talented individuals and amazing head chefs. I always had a soft spot for the alps and winter/snow in general. So in 2005 I decided to do my first ever ski season. I worked for Chalet Ski Companies in the best ski resorts in the Alps.
What happened after that?
On my return to London I decided I wanted to be my own boss, so I became self employed and started to work for private clients, families and corporates creating bespoke catering events. Dinner parties and cooking lessons were the main services I offered.
How did you get introduced to cycling?
My cycling career started back in 1985 when I participated at the FIAC BMX World Championships making the A Final. From there on I raced all over Italy winning 6 Italian National Titles in both BMX 20″ and Cruiser 24″, 4th place in the 1989 World Cup, Podium finishes at European Races and in 1992 a prestigious European Title. I raced BMX in Italy, until 1999.
In 2008 I joined a BMX club in London and got into shape by training hard. I started competing again and after a few seasons I won the British Championships in 2011, British National title in 2012 and a 4th place at the World Championships 2012 in Birmingham.
How did you bring your passion of food and cycling together?
My interest in food and the knowledge I gained in all my years as a professional chef, triggered an ever growing need to understand the importance of a balanced diet for athletes. In 2012, I started to read food / nutrition articles on the web and that kick started the need to know more about nutrition and WHY specific ingredients are a boost for athletes performance. I understood the importance to eat a more natural, organic (mostly plant based) whole food diet rather than a conventional omnivorous diet.
Thanks for sharing your story with us, Mario! Now to share this amazing recipe with our followers…
Chef on a bike's Clean and Super Nutritious Porridge
Ingredients:
1 cup of unsweetened Chi Coconut Milk
1/2 organic GF porridge oats
1 pinch cinnamon
2 tsp Chi Coconut Oil
2 tsp smooth (or crunchy) almond butter
1 tsp ground flax seeds
1/2 banana sliced
5/6 raspberries
Optional ingredients:
blueberries / kiwis / acai berry powder / chia seeds
Method:
Pour the milk in a small non stick sauce pan and bring to a gentle simmer. Tuned the heat down, add the oats and the cinnamon and stir gently. Put the lid on and let it cook for a few minutes, stirring occasionally.
In a medium to large bowl of your choice, place the almond butter and the Chi coconut oil at the bottom then pour over the porridge. Top with fresh fruit and flax seeds and enjoy this super healthy, warming, nutrient dense breakfast that will keep your body fuelled for a few hours 🙂
For more information, follow Mario: @chefonabike
Autumn Sweet Potato and
Coconut Oil Recipes
Today marks the 1st October, one of our favourite months. Not only do we get all the excitement of Halloween, we get all those beautiful Autumn colours and foods too! Namely, autumn/winter vegetables! Amongst our favourites of these seasonal autumnal vegetables, is the sweet potato; an extremely bright, delicious and versatile veg, packed with vitamins and minerals.
The sweet potato can be boiled, baked, roasted and fried, just like a normal potato, and tastes particularly good when cooked in Coconut Oil. The health benefits of Coconut Oil are plenty, and it's a much healthier alternative to most other cooking oils. See: The Lowdown on Coconut Oil to find out more. 
To celebrate the beginning of Autumn, here's some of our favourite Sweet Potato and Coconut Oil recipes to keep you healthy and warm this October…
Wholefoods Market Coconut Roasted Sweet Potatoes Recipe

Ingredients: 
2 tablespoons coconut oil

2 pounds sweet potatoes, cut into 1-inch chunks

1/2 teaspoon fine sea salt

1/4 teaspoon ground black pepper

1 teaspoon grated lime zest
Method: 
Preheat oven to 400°F. In a small saucepan, melt coconut oil over medium heat. Toss potatoes with oil, salt and pepper together in a large bowl until evenly coated. Spread potatoes in a single layer on a large rimmed baking sheet. Roast, stirring occasionally, until tender, about 40 minutes. Transfer to a serving bowl and toss with lime zest.
Lobster & Swan's Vegan Sweet Potato, Carrot and Ginger Soup
Ingredients:
1 Tbsp coconut oil
2 red onions, diced
2 gloves garlic, crushed
1 green chilli, diced
1″ fresh ginger, grated
1 large sweet potato, chopped
5 large carrots, peeled and chopped
1Tbsp vegan vegetable and gluten free stock
Salt and pepper
A fresh boiled kettle of water
Optional basil leaf for decoration
Method:
Set a large pan over a low heat add the coconut oil, once melted add onions, garlic and chilli and cook for 3-5 minutes until softened.
Add the potato and carrots and grated ginger to the pan, stir for a minute or so then pop in the stock and stir for a further minute. Pour over a kettle full of boiled water (roughly about 1.6L) and season with a little salt and pepper, I never go over board with the seasoning and let who ever is eating the soup add more to their preference.Turn up the heat and bring the soup to the boil, once it's bubbling lower the heat back down and simmer for 40 minutes.
Check the veg is soft then take soup off the heat and let it cool for 30 minutes or so before blending.
Enjoy with some crusty bread or some buttered rice cakes.