Delicious Winter Inspired
Hot Drinks!
We think that winter is a great time and season for creativity and new beginnings. Whether you're wrapped in a blanket on your couch or out playing in the snow, working behind a desk, there's wintry inspiration all around us, and there will be always something to share with our lovely readers!
These are the hot drinks we favour at this time of year: soothing chocolate for gentle evenings at home and a warm spiced almond milk for when you feel a little under the weather.
Honey And Camomile Hot Chocolate.
Something for bedtime, this is also a good way to curb a sweet tooth after dinner. (You can even ad a little shot of dark rum if it takes your fancy!)
(Makes 2 cups) 
500 ml almond milk
1 camomile teabag
100g good chocolate, broken up
2 tbsp honey
Heat the milk in a saucepan with the camomile teabag. When it is just about to boil, reduce the heat and simmer for a couple of minutes.
Take off the heat, remove the teabag and add the chocolate and honey. Ladle into cups and pop on to a little tray for bedtime.
Golden Turmeric Milk
This sunny yellow milk brightens us up when feeling under par. Try to have a little turmeric every day, usually in a tea; its healing properties have been widely celebrated. Allowing the milk to cool a little before you add the honey will stop the heat damaging the honey's nutrients. You can also make a peppy morning version with a little grated ginger.
(Makes 2 cups)
4 cardamom pods
½ tsp ground turmeric
½ tsp ground cinnamon
2 tsp runny honey
Bash the cardamom pods in a pestle and mortar and put them into a small saucepan with the milk, turmeric and cinnamon. Heat gently until almost boiling, no hotter – if you are using a non-dairy milk, it may split.
Pour into a mug – or strain it if the cardamom seeds bother you – and, once it has cooled a little, stir in the honey. Make sure you don't spill any, as the lovely yellow colour can be rather persistent.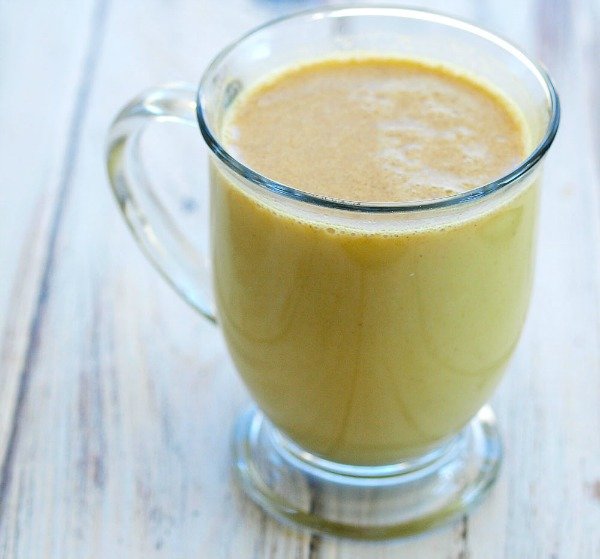 A Delicious Warm Porridge
With Coconut Milk!
Brr, brr, BRRRR! Has winter finally arrived? The mornings are getting darker and colder as the autumnal weather approaches, and let's face it. Porridge is a great winter warmer and what better way to start a cold, frosty morning than with a warming bowl of porridge? Breakfast is important to fuel your body for the day, particularly if you're going for a morning run or a gym session before work. We're huge fans of icy cold smoothies or granola and fruit in the summer months, but now the weather has turned colder, we're looking for a toasty alternative.
But there are more reasons to enjoy porridge than just a delicious start to the day; oats could provide protection against heart disease and cancer, scientists say, and porridge is packed with fibre, which provides your body with sustainable energy.
If you are feeling the cold here is a recipe to heat up your mornings with…
A warming oat-free porridge topped with crunchy Giving Tree Snack Pumpkin Crisps and nutritious goji berries and a drizzle of Yacon Syrup!

Igredients:
Luxurious Oat-Free Porridge
Cinnamon
Yacon Syrup
Coconut butter
Coconut milk or Water
Brazilian nuts
Goji berries
Pumpkin and chia seeds
Method:
Place the oats and the coconut milk or water in a large pan over a medium heat
Add a tiny pinch of salt, coconut butter and stir with a wooden spoon.
Bring to a steady simmer for 5 to 6 minutes, stirring as often as you can to give you a smooth creamy porridge – if you like your porridge runnier, simply add a splash more coconut milk or water until you've got the consistency you like.
Stir the Yacon Syrup through the porridge.
After you're satisfied with the consistency, put your oats porridge in a bowl an add your Giving Tree Pumpkin Crisps topping alongside with the Goji Berries, Brazilian Nuts, Pumpkin, chia seeds and a little bit of cinnamon!
How To Make A
Healthy Green Juice Recipe!
Think of juicing as a quick way to get lots of vitamins and nutrients into your body. Do your body some real good! We don't do healthy juice cleanses and don't use healthy juices as a meal replacement. Instead, we love making a small veggie-packed juice and enjoying it with our (usually fiber rich) breakfast or lunch.
The benefits are so profound, in fact, that you might just get addicted to juicing.Green juices are liquid gold for boosts of energy, nutrients, and restoration. Read more to know how you make a healthy green juice recipe!
Ingredients:
200 gr Spinach
1 Pack VITL Powder
1 Lemon
2 Pears
1 tsp Desiccated Coconut
PRESS all ingredients through a juicer in batches. Stir and sprinkle some desiccated coconut on your smoothie and serve immediately.
Adjust fruit and veggie amounts to suit your personal taste. More apple equals a sweeter drink. Store any extra in the fridge for up to one day.
There are a lot of benefits of using spinach in this smoothie. Spinach contains vitamin K, fiber, phosphorus, and thiamine. Most of the calories in spinach come from protein and carbohydrates.
Potassium
Spinach is one of the best sources of dietary potassium, weighing in at 839 milligrams per cup (cooked). To compare, one cup of banana has about 539 milligrams of potassium.
Iron
A lack of iron in the diet can effect how efficiently the body uses energy. Spinach is a great source of iron, along with lentils, tuna, and eggs. Make sure to combine vitamin C-rich foods with plant iron to improve absorption.
Magnesium
Spinach is also one of the best sources of dietary magnesium, which is necessary for energy metabolism, maintaining muscle and nerve function, heart rhythm, a healthy immune system, and maintaining blood pressure. Magnesium also plays a part in hundreds more biochemical reactions that occur in the body.
Recipes with PACK'D frozen smoothie kits
and Chi Raw Coconut Water
When you read our blog on a regular basis, you know that we had the pleasure to try the frozen smoothie kits from PACK'D. They are absolutely delicious and that's why we decided to create some recipes with the PACK'D kits in combination with our Chi Raw Coconut Water.
Below, you can find the recipes for a tropical breakfast smoothie bowl, a delicate berry smoothie and an energising post workout smoothie. All of the recipes are super easy to make, take no time at all and the taste of them is just scrumptious! Have fun trying them out!
Tropical fruit bowl
Ingredients:
PACK'D Defence
Chi Raw Coconut Water
1 Banana
1 Mango
Coconut flakes
2 tablespoons soy yoghurt
Granola
Method:
Add 250ml of Chi Raw Coconut Water to a blender and add the PACK'D smoothie kit. Peel the mango and add it together with the banana, the coconut flakes and the yoghurt to the blender and blend until smooth. Decorate your bowl with some more yoghurt, granola and the freeze-dried fruit and enjoy a tropical breakfast.
Berry Smoothie
Ingredients:
PACK'D Energy
Chi Raw Coconut Water
A handful of blueberries
1 Banana
Method:
Add 250ml of Chi Raw Coconut Water to the blender and add the smoothie kit and the fruit. Blend until smooth.
Post Workout Smoothie
Ingredients:
PACK'D Energy
Chi Raw Coconut Water
Frozen Acai
A handful of blueberries
1 banana
A teaspoon of protein powder
Method:
Add 250ml of Chi Raw Coconut Water and all of the other ingredients to the blender. Blend until smooth.
10 ways to use coconut
oil on your body
By now, we all know the overall benefits of coconut oil. But did you know, that coconut oil can also be used on the body? It is really versatile and you will be surprised how easy it is, to use a natural product instead of commercial (and often very unhealthy) products.
Below you can find a range of how coconut oil can be used as a body treatment.
1. Body lotion
If you want to have a natural body lotion free from additives and perfume, you can simply use coconut oil. Just rub a bit of the oil in your hands to warm it up. Apply it to your body like you would do with usual body lotion. You will get smooth and moisturised skin.
2. Body Scrub
Coconut oil can be perfectly used as a body scrub. It is easily made at home by mixing together coconut oil and coconut sugar. Apply the mixture on your body to get rid of dead skin cells. After the usage you will have soft and clean skin.
3. Hand cream
Use coconut oil on your hands if they are dry and chapped. For a better result lotion your hands generously with the oil and put gloves on overnight. You will have the softest hands afterwards.
4. Make up remover
To remove eye make up put some coconut oil on a cotton pad and gently rub down the make up. It is a very soft way to remove your make up and moisturise your skin at the same time.
5. Lip balm
The lip balms available in the shops are always packed with unhealthy ingredients. To get a natural and vegan lip balm, just use a bit of coconut oil on your lips. You won't have dry or cracked lips ever again.
6. Dental care
Coconut oil is supporting you to absorb calcium and therefore, to have strong and healthy teeth. Tooth decay will be stopped and plaque formation can be reduced.
7. Hair mask
Once in a while you should treat your hair with a mask to keep it healthy. Coconut oil is a very good helper to protect your hair-ends against spliss and drought. Massage some coconut oil into the hair and let absorb. Shampoo as usual afterwards. For shiny hair do a hair mask once or twice a week.
8. Insect repellent
If you want to have an insect repellent that does not contain chemicals or additives, use coconut oil as your natural product. Mix coconut oil and essential oil together and apply it onto your skin. This has to be done regularly throughout the day to warrant protection against insects.
9. Skin disease
If you suffer from a skin disease, apply coconut oil on the affected area to alleviate symptoms. Coconut oil is anti-inflammatory and therefore, it is bland to the skin. As it is a natural product it won't hurt while applying it on the skin.
10. After sun product
Coconut oil can be a helpful product if your skin got too much sun. The reddened and irritated skin is soothed and rehydrated by the oil. You should take care of your skin and avoid to stay in the sun for too long.
It is so easy to use a healthy, plant-based product instead of all the products we can find in the shops that contain harmful ingredients. Start today and live a better life.
Fruit and Coconut
Ice Lollies
Ice lollies – who does not love them?!
We are all enjoying the sun and the heat these last days. Everyone is relaxing in the park or on a rooftop bar (have a look at the best ones you can find in London here).
The perfect get-together with friends is a picnic. But in this heat a picnic is only successful if you bring one special little thing – ice lollies! Everyone is happy to lick on one to cool down. We have a super easy recipe for you to see happy faces at your picnic. In no time you'll have some healthy and hydrating ice lollies! The best thing is, that you only need two ingredients for this!
Pack the ice lollies, some snacks (for example the Giving Tree Snacks) and lots of other trifles to eat and enjoy it with your friends.
Ingredients:
Method:
Simply slice your fruit and put them into ice moulds. Fill the moulds with CHI coconut water. Put them into the freezer for at least 6 hours, better overnight.
The ice lollies are the easiest and fastest treat to make and they are so delicious! Enjoy!
TOP 5 Thai dishes with
coconut that you should try!
As you may have already noticed, we use coconuts from Thailand and thanks to that our coconut water and milk has a sweet natural flavor. So today we will make you discover 5 thai dishes, which will allow you to use our products to create a tasty meal for you and your friends and family!
"Panaeng" (also spelled Phanaeng or Phanang) is a kind of red thai curry which is really thick and tasty!
This soup is quite classic and quick to make: indeed, as you will see in the recipe you don't need many complicated ingredients, just some quintessential Thai ingredients which will create the rich and dynamic flavor of this chicken and coconut soup!
Here is another curry recipe, which is as tasty as the previous one! Quick to prepare and absolutely delicious!
This is one of the most popular dishes in Southern Thailand: a coconut milk minced fish curry (yeah, another curry!), which is once again delicious! Check out the link below!
You are on a diet but you still want to eat something really tasty? This recipe might be for you! It's gluten free and really simply amazing!
__________________________________________________________________________________
Feel free to share your thoughts about those recipes with us, whether you liked it or not and don't forget to stock up on CHI coconut milk and CHI coconut waters to continue cooking sweet and tasty recipes like these!
Coconut inspiration
from Brazil
With the excitement of the Rio Olympics now a distant dream, we now reflect and put a spotlight on Brazil's tropical and hearty cuisine. The idea of Brazil conjures up the dreamy picture of palm trees, sandy beaches and nothing other than coconuts! And so when visiting Rio, it is difficult to ignore the abundance of fresh coconuts, whether sunbathing on Ipanema beach or being a tourist high up at Christ the Redeemer. No wonder coconuts in all its forms feature in some of Brazil's most iconic traditional dishes and drinks!
The coconut palm in Sanskrit is known as kappa vrisksha, translated as: 'tree which gives all that is necessary for living'. This is somewhat true in the fact that almost all parts of the coconut can be used in one way or another; the water, milk, flesh, sugar, oil and even the husks and leaves!
The extent of coconut's multi use is seen in these pictures below!
Coconut shells can be used primarily as bowls, or even for wood furniture.
Coconuts are known for their high nutritional content; rich in fibre, vitamins C, E, B1, B3, B5 and B6 and minerals including iron, selenium, sodium, calcium, magnesium and phosphorous. The fat in coconuts are considered 'good' fats in the form of medium chain saturated fatty acids (MCFAs). Focusing on one fatty acid in particular, lauric acid, it is converted in the body into a highly beneficial compound called monolaurin – an antiviral and antibacterial compound that destroys a variety of disease causing organisms. Therefore the consumption of coconut in its many forms: coconut oil, coconut water, coconut milk or even coconut flour, is therefore incredibly beneficial for ones health and in fighting infections and viruses.
Coconut based products are especially popular with health enthusiasts, vegans and those that are lactose intolerant as coconut milk in particular is lactose free. Coconut milk is therefore a widely used as a milk substitute and diary alternative in baking.
Without further ado, we explore some Brazilian coconut recipes, some traditional and some with a modern twist!
Beijinho de Coco a.k.a Coconut Kisses 
Coconut truffles
Balls of sweet goodness!
Ingredients:
Sweetened condensed milk x1 can

Sweetened desiccated coconut 1/4 cup

Butter 1 tbsp

Desiccated coconut for decoration

Whole cloves for decorating
Step 1: Bring milk and butter to a simmer in a saucepan over medium-low heat. Continue to cook, stirring often, until the milk has reduced to half and thickened, about 20 minutes. Remove from heat, stir in the 1/4 cup coconut, and allow to cool a bit before pouring into a buttered bowl. Chill in the refrigerator until cold, about 2 hours.
Step 2: With buttered or oiled hands, form milk mixture into tablespoon-sized balls, and roll in coconut flakes. Stick a clove into each beijinho as decoration.
Quindim 
Coconut flan
Baked desert made of egg yolks, sugar and ground coconut flakes
A favourite from the region of Bahia quindim is a glossy yellow sweet made with nothing more than eggs, sugar and coconut (with butter a common addition). Baked in cupcake-sized moulds, or large if you wish, the bottom is toasted and golden, dense with grated coconut, while the top is a smooth, firm custard that sticks pleasingly to the roof of the mouth.
Ingredients:
White sugar x1 cup

Shredded coconut x1 cup

Softened butter 1 tbsp

Egg yolk x5

Egg white x1
Step 1: Preheat an oven to 350 degrees F (175 degrees C)
Step 2: Mix the sugar, coconut, and butter in a bowl. Stir in the egg yolks and the egg white; beat until well combined. Pour the mixture into a 9 inch pie plate. Place the pie plate in a large roasting pan. Pour enough boiling water into the bottom of the roasting pan to reach about half-way up the side of the pie plate.
Step 3: Bake in the preheated oven until golden brown on top, about 30 minutes. Allow to cool completely before turning out onto a serving dish. Refrigerate until serving.
Pave
The Brazilan chocolate trifle 
Layers of cookies filled with chocolate or fruit, lemon, coconut
 Ingredients 
For the chocolate layer 
20 ladyfinger biscuits

2-3 Tbsp Cognac

2 cups whole milk

1.5 cups cocoa powder
For the cream layer
2 cans sweet condensed milk

4 cups milk (or use the sweet condensed milk's can to measure)

2 Tbsp corn starch

4 egg yolks (strained)
For the whipped cream layer
1 small container heavy cream

1 cup powdered sugar

½ tsp pure vanilla extract
Step 1: In a large pot, combine the sweet condensed milk and 3 cups of the milk.
Step 2: Dissolve the corn starch in one cup of milk and add to the pot. Cook that mixture over low to medium heat, stirring constantly, until it starts thickening.
Step 3: Separate a cup of the mixture and let it cool.
Step 4: Add the egg yolks to the cooled cream and return it to the pot. Cook until it thickens.
Step 5: Let it cool and pour into a 15×10 baking dish.
Step 6: Place the biscuits into a large bowl and the Cognac into another smaller bowl.
Step 7: Using your fingers, sprinkle the Cognac onto the biscuits.
Step 8: In the same pot you used for the cream, add 2 cups of milk and 1.5 cups of cocoa powder. Cook until it resembles hot chocolate. (It's supposed to be a liquid mixture, and not a cream!)
Step 9: Dip the biscuits into the chocolate and place them on top of the cream. Cover and refrigerate overnight.
Step 10: On the next day, make some whipped cream by mixing the heavy cream, the powdered sugar and the vanilla extract. Pour the whipped cream into the baking dish, creating a 3rd layer.
Step 11: Refrigerate for at least 1 more hour before serving.
Step 12: Grate or shave some chocolate on top of the pavê and serve cold.
Some other Brazilian delicacies…
Cachaça
Fermented sugarcane juice
Dating back to the 1500s, cachaça is made from fermented sugarcane juice, and is best known as the fiery kick in caipirinhas – Brazil's national cocktail.
Coconut caipirinhas
Ingredients:
Coconut milk 1oz.

Cachaca 2oz.

Sugar 1 tsbp
Step 1: Combine ingredients with ice in a blender and pulse until smooth. Serve immediately in a tall glass.
Açaí bowls 
Acai a.k.a superfood berry is used to make fruit bowls and smoothies
Those bright purples bowls you see on Instagram #superhealthy
Of all the thousands of fruits from the Amazon, açaí is the best known, thanks to its super-food status. Traditionally eaten by indigenous tribes for energy, the hard purple berry is also used in Amazonian cooking, as a sauce with fish. A clever marketing campaign in the '80s thrust it into the spotlight as the energy snack of choice for surfers in glamorous Rio de Janeiro. Served as a sweet, gloopy, frozen sorbet, sometimes topped with granola and slices of banana, or whizzed up in juices, it can found in every café, bakery, juice bar and supermarket across the country.
Tip: add some desiccated coconut on top and serve in a coconut shell for that extra coco-nutty touch!
Acai Berry
Breakfast!
It's been a few months that we've seen acai berry in our local stores. The acai berry is a small, reddish-purple drupe consisting of a cluster of seeds, with only around 15 percent or so being edible, harvested from palm trees found around the Amazon River basin of South America. These berries are  packed with antioxidants, amino acids and essential fatty acids. There are numerous health benefits in them, such as:
– boosting your immune system
– preventing skin health
– loosing weight
– Anti-aging effects and more…
Now you know how great are acai berries, let's see how to consume them.
Acai Coconut bowl 
Ingredients:
2 packs of acai purée
100ml Chi Raw coconut water
1 banana
Toppings
coconut
granola
strawberries
Banana
Method
1. Blend the 2 frozen acai packs in a blender with the banana and coconut water  until it's thick and smooth like a smoothie.
2. Top with sliced strawberries, sliced banana toasted coconut and crumbled granola. Enjoy immediately.
Acai Berry Porridge 
Ingredients:
30g rolled oats
20g chia seeds
2 tsp maca powder
2 tsp  Iswari acai berry powder
180g Chi coconut milk
260g hot water
TOPPINGS (optional): hemp seeds, pepitas, sunflower seeds, almonds, blueberries
METHOD:
1.  Add all ingredients, except for the toppings, into a bowl. Cook for 8 min, 100C, reverse speed.
2. Serve with your choice of toppings.
Rainbow Granola by
Barbara Cox
Barbara Cox, the amazing cook who created over 70 healthy delicious recipes to fight cancer.
In her cookbook 'Rainbow diet' she describes how some nutrients can maintain the health of different body systems such as the heart, blood vessels, muscles , bone and more… To finish the year healthy Barbara gave us an excellent recipe to make our breakfast full of goodness with her 'Rainbow Granola'. See below the yummy recipe and her clever ideas!
Rainbow Granola with Chi Coconut Oil
It's easy to overlook this important meal when the pressure is on to get the turkey in the oven. But we all need breakfast for a good start to the day, so before you and your family delve into your presents, remember to tuck into a good breakfast too.
Try making your regular breakfast cereal more special than usual with one or more of the following ideas:
serving it with pieces of fresh apple and pear
you could throw in a few nuts, or dried festive fruits such as figs and dates
Or why not add a handful of brightly coloured berries to your breakfast, such as raspberries, blackberries, blueberries or strawberries? You can usually buy berries frozen, even when they're out of season.
Frozen fruit and veg, as well as fresh, tinned and dried, all count towards the 5-a-day fruit and veg target.
If you're a granola person, why not jazz up your daily serving with:
several slices of fresh tangerine and banana
a few grapes
a handful of seeds or nuts
Here's a festive granola recipe using Chi coconut oil.
Ingredients
150g oats
20g Chi coconut oil
60ml maple syrup or Manuka honey
50g pumpkin seeds
50g sunflower seeds
30g flaxseeds
100g Brazil nuts
50g dried gogi berries
70g dried cranberries
1 vanilla pod – de-seeded
Directions
Preheat oven to 180°C
Mix all ingredients together and toss until fully coated with coconut oil and Sweet Freedom
Spread mixture on a baking tray with grease-proof paper lining.
Bake for 10-12 minutes
Break apart after baking into bite-size chunks.
Store in an airtight container for 2-3 weeks
If you want to make more recipes from Barbara Cox, check out her cookbook here.
Chi Coconut
Porridge
You can't be a true British if you don't eat porridge for breakfast! It is the perfect compromise while it's simple and quick to make it, there's now another reason to love this most healthy breakfast. According to several studies, people who eat oats and other wholegrains live longer and are less likely to die from heart disease. The cereal grain's proven talents include helping to lower high blood pressure and reduce bad cholesterol. Not to mention that it's packed with a lot of vitamins, minerals and fibre.
In this article we will give all the best tips to make yummy porridge with Chi coconut milk.
You can find a thousand ways  to make porridge but the basis is all the time the same. Porridge as we know it today, is made by mixing oats with a fluid (water and or milk) and then heating it.  Beyond that it is all down to personal preference, here are some ideas!
Chi Chocolate Porridge 
1. Mix the oats and Chi Chocolate coconut milk . Set over a low heat and cook for about 20 mins, stirring every now and then to prevent the porridge from sticking, until it's thick and creamy – add a splash more Chi milk if you like it thinner.
2. To serve, spoon the porridge into bowls, top with some almond pieces.
Honey Coco porridge 
1. Mix the oats, Chi coconut milk (plain) . Set over a low heat and cook for about 20 mins, stirring every now and then to prevent the porridge from sticking, until it's thick and creamy – add a splash more Chi milk if you like it thinner.
2. To serve, spoon the porridge into bowls, top with some almond pieces plus some banana and a little bit of chocolate pieces. To finish you can drizzle with honey.
Creamy Blueberry Coconut Porridge
1. Simply add the water, oats, Chi coconut milk to a saucepan and allow it to heat for about ten minutes, until the liquid has all been absorbed.
2. Then stir in some Chi organic coconut oil and let it dissolve into mix.
3. Once it's all nicely mixed pour it into a bowl, add blueberries and coconut chips.
Enjoy!
Halloween
Competition
Trick or treat?  TREATTTTT! Halloween night is coming in a few weeks! Are you going to a party or watch a scary movie with your friends? Either way you need YUMMY snacks.  Chi and its favourite brands are here to provide you with all you need 😉
COMPETITION TIME
What's the prize included?
Handmade popcorn in London that use natural ingredients. Their range contain over 40 innovative flavours (sweet or savoury).
Healthy and delicious range that the whole family can enjoy. Preservative free, all natural, guilt free!
 100% Raw organic coconut water, unheated, with nothing added and nothing taken away. This means both the taste and nutritional content are unchanged.
How to enter ?
It's really easy, all you need to do:
 Like our Facebook page, follow us on Instagram and follow us on twitter
 Share the Halloween  competition with the hashtag #joeandseph and #givingtreesnack 
The competition will be running from the 13th October to the 27th October 4pm, so good luck everyone!
Here are our links:
Facebook:https: www.facebook.com/chibrands
Twitter: @chicocowater 
Instagram: @chicoconutwater
Chi'prize T&Cs: Correct entries will be submitted into our prize draw, and a winner selected at random. The winner will be contacted via twitter or Facebook, and must respond within 48 hours to receive their prize; otherwise a new winner will be selected. Open to UK residents only.
Quiche
party?
Quiche is the perfect dish if you're busy with work and other activities.  These savoury pies are  fast and easy to make, they are so convenient because you can easily customise with your favourite vegetables or meat. A lot people think that this french cuisine is unhealthy but actually if you choose healthy ingredients, your savoury pies can contain several nutritional benefits.
Quiche are essentially a custard made with milk and eggs poured into a pie crust and baked. They are paired with  vegetables or meat, nuts and herbs for added flavour. In this article we' ll give you the healthiest recipes to make your quiche as a real French person would!
Mushroom, Spinach and Feta
Ingredients
100g Chi coconut oil 

3 cloves garlic, chopped

1 small onion, chopped

275g frozen spinach, thawed and well drained

100g mushrooms, chopped

200g feta, crumbled

200g low fat Cheddar cheese, grated *

shop-bought shortcrust pastry for a 23cm (9in) dish

3 eggs, beaten

250ml low fat milk

salt and freshly ground black pepper to taste
Method
Preheat oven to 190 C . Line a pie dish with shortcrust pastry, cutting off any excess and pinching the edges.

In a medium frying pan, melt Chi coconut oil  over medium heat. Saute garlic and onion in Chi coconut oil until lightly browned, about 7 minutes. Stir in spinach and mushrooms, and saute until most of the water from the vegetables has evaporated. Add feta and 1/2 of the low fat Cheddar. Season with salt and pepper. Spoon mixture into prepared pastry-lined dish.

In a medium sized bowl, whisk together eggs and milk. Season with salt and pepper. Pour into the pastry base, allowing egg mixture to thoroughly combine with spinach mixture.

Bake in preheated oven for 15 minutes. Sprinkle top with remaining Cheddar, and bake an additional 35 to 40 minutes, until set in centre. Allow to stand 10 minutes before serving.
* Optional ingredient
Tips:  you can omit the crust and limit the use of cheese.
Tomato Basil  Quiche 
INGREDIENTS
 Healthy crust
3/4 cup whole-wheat pastry flour

3/4 cup all-purpose flour

1/2 teaspoon salt

1/2 teaspoon freshly ground pepper

1/3 cup Chi coconut oil

5 tablespoons cold water
Filling
3 large eggs

1 cup low-fat milk

1/2 cup shredded sharp Cheddar cheese

2 medium tomatoes, sliced

1 cup fresh corn 

1 tablespoon chopped fresh thyme or 1 teaspoon dried

1/2 teaspoon salt

1/4 teaspoon freshly ground pepper

handful basil leaves
Method
To prepare crust: Combine whole-

wheat 

flour

, all-purpose flour, 1/2 teaspoon each salt and pepper in a large bowl. Make a well in the center, add oil and water and gradually stir them in to form a soft dough. Wrap the dough in plastic and chill in the refrigerator for 15 minutes.

Preheat oven to 400°F.

Roll the dough into a 12-inch circle on a lightly floured surface. Transfer to a 9-inch pie pan, preferably deep-dish, and press into the bottom and up the sides. Trim any overhanging crust. Line the dough with a piece of foil or parchment paper large enough to lift out easily; fill evenly with pie weights or dry beans. Bake for 20 minutes. Remove the foil or paper and weights. Let cool on a wire rack for at least 10 minutes or up to 1 hour.

To prepare filling: 

Whisk 

eggs

 and milk in a medium bowl. Sprinkle half the cheese over the crust, then layer half the tomatoes evenly over the cheese. Sprinkle with corn, thyme, 1/4 teaspoon each salt and pepper and the remaining 1/4 cup cheese. Layer the remaining tomatoes on top and sprinkle with the remaining 1/4 teaspoon salt. Pour the egg mixture over the top and add handful basil leaves.

Bake the pie until a knife inserted in the center comes out clean, 40 to 50 minutes. Let cool for 20 minutes before serving.
Mexican Quiche 
INGREDIENTS
Filling

2 teaspoons Chi coconut oil

2 cups diced onions

1/8 teaspoon salt plus 1/4 teaspoon

2 tablespoons water

3/4 cup corn

1/2 cup quartered cherry tomatoes

1/3 cup chopped pickled jalapeños

1/2 cup shredded Jack cheese

3 large eggs

3/4 cup low-fat milk

1/4 cup sour cream

1/4 teaspoon freshly ground pepper
Method
To prepare crust: Whisk whole-wheat flour and all-purpose flour with salt in a medium bowl. Cut butter into small pieces; using your fingers, quickly rub the butter into the dry ingredients until smaller but still visible.

Add sour cream and oil; toss with a fork to combine with the dry ingredients. Sprinkle 2 tablespoons of ice water over the mixture. Toss with a fork until evenly moist; if the mixture seems dry, add up to 1 more tablespoon water. Knead the dough in the bowl a few times—the mixture may still be a little crumbly—then firmly press into a disk. Cover the bowl with plastic wrap and refrigerate for at least 1 hour.

Preheat oven to 190 C . Line a pie dish with shortcrust pastry, cutting off any excess and pinching the edges.

Spread the caramelized onions in the bottom of the crust. Layer corn, tomatoes and jalapeños over the onions. Top with cheese. 

Whisk 

eggs

, egg whites, milk, sour cream, pepper and the remaining 1/4 teaspoon salt in a medium bowl. Pour the mixture into the crust.

Bake the quiche until puffed and firm when touched in the center, 40 to 50 minutes. Let cool on a wire rack for 15 minutes. To serve, cut into 8 pieces.
Tuna & Leek quiche 
 Ingredients
1 shortcrust pastry sheet, rolled

1 tablespoon Dijon mustard

100g  tuna

3 eggs

3 tablespoons low fat creme fraiche

1 tablespoon low fat milk

salt and pepper to taste

1 teaspoon vinegar

2 leeks

150g grated Gruyere cheese

2 tablespoon Chi coconut oil 
 Method
Preheat the oven to 190 C and bake for 30 minutes.

Line a pie dish with the shortcrust pastry sheet. Prick the bottom of the pastry sheet with a fork, then spread with a thin layer of mustard and top with the tuna.

In a medium frying pan, melt

Chi coconut oil

  over medium heat. Saute leeks and onion in coconut oil  until lightly browned, about 7 minutes. And top them over the tuna.

Beat the eggs in a bowl and mix with the 3 tablespoons of creme fraiche and the milk. Add salt and pepper and vinegar. Pour the mixture into the pastry case.

Add the thin slices of tomatoes over top, and sprinkle with the grated cheese.
Tips: serve your quiches with a little salad on a side or a soup to warm up
BON APPETIT EVERYONE! 
Be Healthy.
Be Happy!
To be healthy every day is not easy! Staying motivated to eat healthy can be even harder during this season.  You smell BBQ every where, ice-cream or fresh soft drinks. All so tempting. And the big excuse that we can hear during summer 'Oh it's okay we are on vacation!' Be careful! Bad habits can come back so quickly. But it's  a shame to quit  so close to your goals because 'winners never quit and quitters never win.' So let's keep motivated, no more excuses! In this article you'll find all the best tips to stay healthy.

1. Set  your goals
First you have to set realistic goals which are achievable.  Make sure that you can adapt your lifestyle around meeting your goals.  Also you have to make you goals specific with a short term goal such as running a 5K toward running  a marathon. Your goal needs to be measurable.
2. Exercise as much as you can
As you know exercising is so good for your mind and your body. But also it can help you to eat more healthy by helping you to resist temptation and it reduces craving for junk food. When you start exercising you don't want to eat junk food but healthy food to see the results of your workout.
3. Don't get bored
Sometimes eating healthy can be boring…At CHI HQ we say NO! It's not true now, and thanks to the internet, we can make some yummy and tasty recipes. And lucky as we are, we can find some really nice restaurants! Try new things, don't stick on one kind of meal.  By nature, humans need changes and variety to stay motivated.
4. Healthy  snacks
Always bring a healthy snack  with you before to go out. This will help you to stay away from the junk food and you won't be hungry. Studies showed that if you go grocery with an empty stomach you are more tempting to buy junk food. So get  a snack before going to the supermarket!
Available at Planet Organic/ Whole Foods/ Selfridges
Here you will find all the healthy snacks to bring with you:
http://www.chilondon.com/blog/snack-bring-beach/
http://www.chilondon.com/blog/healthy-snacks/
5. Enjoy eating 
First thing that you have to remember, you are not on a diet but you choose to eat healthy! So enjoy eating all kinds of food, even your favourite foods (usually not healthy). Deprivation is the worst thing you can do, you'll just get frustrated. So if you want a treat, eat it and enjoy it but with moderation.
6. Chi Raw coconut
Chi Raw Coconut Water can help you to eat less junk food! How? After drinking coconut water you'll feel less hungry thanks to its nutrients and vitamins, try it you'll love it!
Available on ocado.com/ Whole Foods/ Planet Organic
What snack should I
bring to the beach?
Spending your time at the beach playing in the water or lying on the sand can make you hungry! Snacks are a must have at the beach but what to bring? During vacation nobody wants to devote a lot effort to making snacks.  The perfect snack at the beach needs to be easy to carry and simple to eat. But you have to avoid snacks high in salt and fat.
At Chi we'll give you all the tips to bring healthy and tasty snacks with you during your vacation.
1. Trail Mix
Benefit:
A trail mix very high in antioxidants and wonderful healthy oils
No partially hydrogenated oils or fats.
A high-energy snack with no added sugar or harmful preservatives.
2.  Fresh Fruit
Nothing can be easier and healthier than to eat a fresh fruit.
3. Giving Tree snacks
Want something crispy? Giving Tree snack is the perfect combination of fresh fruits and crisps.
Benefit:
Fruits are freeze-dried – a technology that doesn't damage the nutritional value or the flavour
No sugar added
Vegetables are vacuum fried with a healthy oil (Rice Bran oil which is rich of antioxidants)
No salt added
Find them at Planet Organic and Whole Foods!
4. Granola Bar
You can make your own energy booster granola bar, the night before to go to the beach.
INGREDIENTS:
2 tbsp

 Chi Coconut Oil

2 tbsp

 Chi Coconut water
 1 cup packed pitted Medjol dates

1 1/2 lightly toasted jumbo organic Oats

1 cup raw whole almonds

1/4 cup honey

1/4 cup Organic crunchy peanut butter

1/2 cup organic dried cranberries
METHOD:
1. Blend the dates in a food processor until you get a smooth paste. Use 2 tbsp Chi Coconut water to help the blending process.
2. Place oats, almonds, cranberries and dates paste in a bowl and set aside.
3. Warm honey, peanut butter and Chi Coconut oil in a small sauce pan. Stir gently and then pour over the oats mixture. Mix thoroughly.
4. Transfer the mix to a baking parchment lined baking tin/tray.
5. Press down with a spatula until smooth and uniformly flattened. Cover with cling film and refrigerate overnight.
6. Remove from the baking tin, cut into bars 10/12 bars. You can store them in air tight container or wrapping them individually. They keep in the fridge for up to 6 days.
5. Stay hydrated with Chi Raw Coconut Water 
 Chi Raw Coconut Water will be your sun soul mate for this summer!
Coconut Ice lollies to keep
you cool this summer
We all know when it gets to summer, it is time for a quick last minute health kick before a holiday! That means cutting down on all the tasty treats, which in the summer, it tends to be very difficult. Especially when you're out and about in the hot sun, and all you are thinking about is a refreshing ice cream or chocolate sundae would be nice to cool you down and sort out those naughty sugar cravings. Do not worry, we have the solution for you! There's no need to completely ditch these treats.  Instead we have put together a mixture of healthier and guilt-free versions of ice-lollies and ice-cream recipes you can give a try. All of these recipes have a coconut flavour to them, giving you an exotic taste!
Mango and Coconut Ice-lollies (makes 10)
Recipe Note:
Ice-lolly moulds take 1/3 cup of mixture
10 ice-lolly sticks needed
Use vanilla beans rather than extracts
Ingredients:
450 g mango flesh (2 large mangos)
1/2 vanilla bean, seeds scraped
1/4 lime, juiced
1 can (270 ml) Chi Coconut Milk
Method
In a high-speed blender, combine all ingredients and blend on high until smooth and creamy. Evenly pour into your Ice-lolly moulds. Freeze for 30 minutes, then insert popsicle sticks. Freeze for a further 2-3 hours, until fully frozen. To enjoy, run the mould under a little hot water to loosen the Ice-lollies.
Vegan, sugar-free magnum choco-blocks 
What you need:
 Blender
Saucepan
8 Ice cream moulds
Ingredients (makes 8):
For the ice cream:
2 ripe bananas, frozen
1 400mL can full fat coconut milk, chilled if possible
1/4 cup maple syrup
t teaspoon vanilla bean paste
For the chocolate:
¼ cup cacao butter
½ cup cacao
3 tablespoons maple syrup
Method
For the ice cream: Pop the ice cream ingredients into a blender and blend until smooth. Pour into ice cream moulds, add your sticks and pop into the freezer to set overnight.
For the chocolate: Put all the ingredients into a pan and heat on a very low heat until you create a smooth consistency. Be careful not to burn/overcook.
When you get the ice creams out, allow to defrost for a few minutes so they come out of the moulds easily. Alternatively run the moulds under hot water to loosen the edges.
To make the magnum…
Classic: Dip the ice cream into a bowl of chocolate. Use a icing knife to smooth out any edges but be quick because it should set almost immediately. Repeat to create a nice thick layer of chocolate. Pop back into the freezer for a few minutes to completely freeze. Enjoy!
Almond: As per Magnum Classic, but add a handful of slithered almonds to sandwich between chocolate layers.
Peppermint: As per Magnum Classic, but add 1 tablespoon of mint extract (or to taste), a handful of fresh mint and a few drops of green food colouring/spirulina  to the ice cream mixture.
Storage: in a freezer safe container in the freezer for up to 5 days.
Why Drink Chi during
A Workout?
As we all know it's so important to drink water, particularly during a workout. But what should we drink during intense exercise? Its hard to find a drink that will keep you hydrated and give you the energy needed. In this article you will find a few suggestions of drinks that you could drink during your workout.
First we have to understand what our body needs.
When we sweat we loose a lot electrolytes. Here are the common electrolytes that we loose during working out:
– Sodium & Calcium
– Potassium
You must replace them by drinking a fluid that contains electrolytes. Water does not contain electrolytes.
Also we need carbs to refuel & give you energy and proteins helps to repair any damage.
What is the right amount to drink?
Doctors recommend to drink 8 ounces every 15 minutes during workout and to 'drink to thirst'. But don't drink too much because consuming a lot of fluid but not enough sodium can develop an hyponatremia condition. However this case is really rare most people don't drink enough!
So what to drink?
For sure water is the easiest solution, it's fine to consume it when it's not an intense workout.But water doesn't contain electrolytes.
 Chi Raw Coconut Water suits an intense workout perfectly as it contains a high level of electrolytes and also it gives you the energy needed from its natural sugars.
If  you prefer milk-type drinks, why not try our Dairy Free Chi Chocolate Coconut Milk.
After working out what to get?
Doctors recommend to have protein & carbs after workout. As we saw previously, protein repairs any muscle damage and carbs give you energy. So it's time to make some delicious smoothies with Chi Coconut Milk!
What you need:
2 Bananas
2 large handfuls of spinach roughly chopped
2 handfuls of blueberries
7 large strawberries chopped
1 cup of Chi coconut milk
Chi coconut water to thin if needed
1/2 cup Flax seed
Now you know what you have to drink,  go workout!
Chi's iced
espresso
With Spring finally here we thought we'd be the first to get going on those ice cold drinks to get us in the mood for some sun. And what better iced drink is there than a chocolate coconut milk iced espresso to keep you going throughout the day? Chi have found the perfect recipe to refresh you and it's dairy free!
Chi's iced espresso
Our Chi espresso coconut milk is dairy free, low in fat, isotonic and 100% natural! It is packed with added fibre and naturally occurring electrolytes – keeping you hydrated, vibrant and healthy. The product is also gluten free, dairy free and suitable for vegetarians – a great drink to recommend to friends with intolerances.
Anyway, we think this recipe is fabulous, let's try it!
Steps to follow:
1. Place one 330ml bottle of Chi espresso coconut milk in the fridge for a few hours to cool it.
2. Meanwhile, pour our  Chi chocolate coconut milk into ice cube trays and place it in the freezer until set.
3. When the ice has set and the Chi espresso coconut milk drink is cold enough enjoy the two as a delicious iced drink – with a kick from the coffee and a bit of a hint of chocolate from the ice cubes!
4. If you want an extra health kick, stir in 1 teaspoon of our delicious Chi coconut oil. Enjoy!
5 best blends! Our favourite
smoothie recipes here at Chi.
Here at Chi we have collected our 5 favourite smoothie recipes! Love drinking smoothies with a hint of coconut to them?! You have come to the right place. 
1. Deliciously Ella's Mango and cashew smoothie. 
Ingredients (Serves 2)
1 mango.

2 ripe bananas.

2 cups of spinach.

1/2 a cup of spinach.

2 cups of

Chi coconut water

.

1 lime

Optional: A tablespoon of chai seeds.
Notes: Soak cashews overnight to soften them. Add all the ingredients to a strong blender when fresh for the best results!
2. Madeleine Shaw's peanut butter and raspberry chai jelly smoothie. 
Ingredients (Serves 1)
1 frozen banana (peeled & frozen overnight).

200ml

Chi coconut milk

. 

2 Tbsp of peanut butter.

Pinch of vanilla bean powder or extract.

50g of raspberries.

1/2 lime.

1 Tbsp of chai seeds.
Notes: At the bottom of your smoothie glass place the chia seeds, lime and berries & mush with a spoon before leaving to sit for 10 mins. Stir ever few minutes until a gel like texture is formed. In a blender blitz the banana, Chi coconut milk, peanut butter and vanilla for a few minutes. Pour over the raspberry jelly. Enjoy!
3. The smoothie lover's natural protein smoothie.
Ingredients (Serves 1)
Half a banana.

1 cup of berries (frozen for the perfect texture).

1/3 cup chickpeas (cooked or canned).

120ml of

Chi coconut milk

.
Notes: Use frozen berries for perfect consistency. Blend all the ingredients together using a strong blender and enjoy! 
4. Hemsley Hemsley's 'thanksgiving' smoothie.
Ingredients (Serves 1)
80g cold or hot roasted, baked, or steamed squash (remove any burnt or tough skin—otherwise we keep it in there).

50g fresh cranberries (40g fresh plus 10g dried cranberries is a little sweeter) or 50g green apple.

12 whole pecans (ideally, soaked for at least 7 hours in filtered water with a pinch of sea salt, rinsed and drained—this makes them easier to digest).

250ml Chi coconut water.

A pinch of ground cinnamon.

Optional: ½ tsp ground turmeric, raw pasture reared organic egg yolk and some chia.
5. Running with spoon's chocolate smoothie.
Ingredients (serves 1)
¾ cup 

Chi chocolate coconut milk

.

1 small/medium banana, frozen

2 Tbsp. unsweetened cocoa powder

dash of cinnamon

1 tsp. instant coffee granules (optional)

2 Tbsp. chocolate or vanilla protein powder (optional)

1Tbsp. nut butter (optional)
Notes: If you want to make your smoothie even thicker, freeze your Chi chocolate milk in an use cube tray prior to making.
… We hope you enjoy making all of these delicious smoothies! For any ingredients you need from us just head over to our website to stock up. http://www.chilondon.com  🙂 
Your mouth will be having a party
when you try this granola bar recipe!
We are  a big fan of Chefonabike the foodie biker! He has kindly shared with us his yummy granola bar recipe. All clean, healthy  recipes and, of course, they have got chi coconut oil in them. Brilliant for that early morning metabolism kick start and energy boost! Chefonabike says:
'A super healthy version of a very popular everyday snack / energy bar just got a lot better. A clean approach is essential here so instead of using butter and sugars, Chi Coconut Oil and Honey are the sticky/combining agents. Also the crunchy peanut butter provides texture and flavour to the bar. Enjoy as a breakfast or as a Pre workout (whatever your sport/activity is) fuel..also ideal as a Recovery/Post trinity food to replenish glycogen used by your muscles.'
INGREDIENTS:
– 2 tbsp Chi Coconut Oil
– 2 tbsp Chi Coconut water
– 1 cup packed pitted Medjol dates
– 1 1/2 lightly toasted jumbo organic Oats
– 1 cup raw whole almonds
– 1/4 cup honey
– 1/4 cup Organic crunchy peanut butter
– 1/2 cup organic dried cranberries
METHOD:
1. Process the dates in a food processor until you get a smooth paste. Use 2 tbsp Chi Coconut water to help the blending process.
2. Place oats, almonds, cranberries and dates paste in a bowl and set aside.
3. Warm honey, peanut butter and Chi Coconut oil in a small sauce pan. Stir gently and then pour over the oats mixture. Mix thoroughly.
4. Transfer the mix to a baking parchment lined baking tin/tray.
5. Press down with a spatula until smooth and uniformly flattened. Cover with cling film and refrigerate overnight.
6. Remove from the baking tin, cut into bars 10/12 bars. You can store them in air tight container or wrapping them individually. They keep in the fridge for up to 6 days.
NOTES
Optional additions: raw cocoa nibs; goji berries; other nuts; banana chips; vanilla.
NUTRITIONAL INFORMATION:
Serving size: 1 bar | Calories: 220 | Fat: 9gr | Saturated: 1,5gr | Carbohydrates: 31gr | Sugar: 20gr | Fiber: 5gr | Protein: 7gr
Recipe by Chefonabike www.chefonabike.me
For more wonderful recipes click here to visit our Pintrest!
Soft skin with
Chi Coconut Milk
The weekend is coming!  Why don't we use these 2 little days to take care of our skin. You don't need to go to the spa and spend money on expensive cream, Chi is here for you!
All you need to do is grab a carton of our lovely Chi Coconut Milk and let Chi do the rest…
The objective this weekend is to have clear and flawless skin:
First step remove your makeup 
Coconut Milk Makeup Remover
 It can sometimes be a struggle to remove stubborn mascara, eyeliner and eyeshadow from your eyes. Coconut milk mixed with olive oil is the best natural eye makeup remover!
Mix together Coconut Milk (1/2 parts) with Olive Oil(1 part)
Using a cotton pad, dab the mixture onto the eyes.
Second step clean your skin 
Coconut Milk Facial Cleanser
This perfect natural cleanser for your face. It will help moisturise, fade blemishes and brighten up your face!
Mix a teaspoon of creamy yoghurt with a few drops of  Chi Coconut milk
Sprinkle turmeric and mix all together
Spread the mix evenly onto your face and leave it to soak in for 5 minutes.
Rinse off with a wet cloth
Third step hydrate your skin
Coconut Milk Moisturiser
Have these frosty winter days taken a toll on your skin? Has the relentless cold has made your skin dry and tight? All you need to do is this…
Mix equal amounts of fresh Chi Coconut milk and honey.
Add 2 drops of almond oil (only for extra dry skin)
Gently rub the mixture smoothing into the dry patch
Leave it to moisture in the pores for 10-20 minutes
Rinse off with a cold wet flannel
Repeat this 3-4 times a week
Fourth step enjoy your silky and soft skin.
Chef on a bike tells
us why he loves Chi
Who are you?
My name is Mario Presi, 39 years of age, Italian by birth. I come from the Veneto region (from Padova, near Venice) in north-east Italy. I grew up in Italy, and went to Catering College where I graduated in Hotel & Restaurant Management in 1995. I moved to London in 2001 and I haven't looked back since.
What is Chef on a bike?
Chef on a bike is me. It represents who I am via my profession (chef), and my passion for cycling around the world (on a bike).
Why did you set up Chef on a bike?
I wanted to help people improve their eating habits by educating them in what to eat, and why. This is great for athletes who want to improve their performance by enhancing their nutrition, but also good for the average person who doesn't compete in sport's but likes to keep fit, healthy and would like to improve their way of eating.
Why Do You Love Chi's products?
One of the products I came to love almost to the point to be obsessed about it is Chi 100% Organic Virgin Coconut Oil. I have tried and tested many coconut oils in the last 2 ½ years but Chi Coconut Oil has become my favourite. In fact, not only do I use and consume a 500g jar per month, but I also recommended to my clients and friends. You can use Chi Coconut Oil in your coffee, frying eggs or as a spread over toast.
Chi Coconut Water is also an item on my weekly shopping list, and it is by far my first choice.
You are an advocate of "clean eating", can you tell us more?
Clean eating means avoiding foods that are processed, artificial foods, or foods that have been genetically modified. These cause stress on your body, which can ultimately cause illnesses. Whole and unprocessed plant-based foods are full of vitamins, minerals, quality macronutrients, and antioxidants that the body needs for cellular regeneration. I prefer to eat these.
What's the story behind your cooking?
I worked for what was known at the time as Conran Restaurants, established by Sir Terence Conran and associates. I had the pleasure to work with talented individuals and amazing head chefs. I always had a soft spot for the alps and winter/snow in general. So in 2005 I decided to do my first ever ski season. I worked for Chalet Ski Companies in the best ski resorts in the Alps.
What happened after that?
On my return to London I decided I wanted to be my own boss, so I became self employed and started to work for private clients, families and corporates creating bespoke catering events. Dinner parties and cooking lessons were the main services I offered.
How did you get introduced to cycling?
My cycling career started back in 1985 when I participated at the FIAC BMX World Championships making the A Final. From there on I raced all over Italy winning 6 Italian National Titles in both BMX 20″ and Cruiser 24″, 4th place in the 1989 World Cup, Podium finishes at European Races and in 1992 a prestigious European Title. I raced BMX in Italy, until 1999.
In 2008 I joined a BMX club in London and got into shape by training hard. I started competing again and after a few seasons I won the British Championships in 2011, British National title in 2012 and a 4th place at the World Championships 2012 in Birmingham.
How did you bring your passion of food and cycling together?
My interest in food and the knowledge I gained in all my years as a professional chef, triggered an ever growing need to understand the importance of a balanced diet for athletes. In 2012, I started to read food / nutrition articles on the web and that kick started the need to know more about nutrition and WHY specific ingredients are a boost for athletes performance. I understood the importance to eat a more natural, organic (mostly plant based) whole food diet rather than a conventional omnivorous diet.
Thanks for sharing your story with us, Mario! Now to share this amazing recipe with our followers…
Chef on a bike's Clean and Super Nutritious Porridge
Ingredients:
1 cup of unsweetened Chi Coconut Milk
1/2 organic GF porridge oats
1 pinch cinnamon
2 tsp Chi Coconut Oil
2 tsp smooth (or crunchy) almond butter
1 tsp ground flax seeds
1/2 banana sliced
5/6 raspberries
Optional ingredients:
blueberries / kiwis / acai berry powder / chia seeds
Method:
Pour the milk in a small non stick sauce pan and bring to a gentle simmer. Tuned the heat down, add the oats and the cinnamon and stir gently. Put the lid on and let it cook for a few minutes, stirring occasionally.
In a medium to large bowl of your choice, place the almond butter and the Chi coconut oil at the bottom then pour over the porridge. Top with fresh fruit and flax seeds and enjoy this super healthy, warming, nutrient dense breakfast that will keep your body fuelled for a few hours 🙂
For more information, follow Mario: @chefonabike
Vegan Pineapple Nasi Goreng
with Coconut Oil
Just because it's winter that doesn't mean that we can't enjoy exotic dishes that transport us to a tropical paradise… For those who love light meals that are full of flavour, here is a recipe for a vegan Pineaple Nasi Goreng inspired by amazing Balinese cuisine and using our very own organic raw coconut oil.
Vegan Pineapple Nasi Goreng
(serves two)
Ingredients: 
½ cup brown rice
1 pineapple
1 tsp Chi Coconut Oil
1 small courgette
1 small fresh chilli
10g fresh chives
10g fresh lemongrass
Himalayan salt to taste
Black pepper to taste
2 tsp tamari
1 vegetable stock cube
½ cup cashew nuts
Method:
1. Cook the brown rice, according to pack directions, and set aside to cool
2. Cut the pineapple in half and hollow out both halves to make two bowls
3. Cut a piece off the bottom of the hollowed pineapple halves to create a flat base
4. Cut the pineapple taken from the centre into small pieces and set aside
5. Heat a pan on a low heat and add the coconut oil
6. Cut the courgette into small chunks and cook it in the oil for a few minutes until almost cooked through, then set aside
7. Add the chopped chives, lemongrass and chilli to the pan. Sprinkle the mix with a little bit of salt and pepper
8. Sauté for about a minute, then add the rice and the pineapple and stir
9. Add the tamari and the vegetable stock, stir to mix all the ingredients and cook for another 30 seconds
10. Add the cashew nuts last
11. Serve in the pineapple bowls and enjoy!
Recipe via Iveta Ratarova. Check out her page for more inspirational healthy recipes! 🙂
CHOCOLATE & PEANUT BUTTER
BANANA BREAD RECIPE
We absolutely love this Chocolate & Peanut Butter Banana Bread recipe from the Minimalist Baker… In fact, we just LOVE the Minimalist Baker! Husband and wife team, John and Dana, created The Minimalist Baker as "a space for simple, delicious food" which often uses 7 ingredients or less. Their site features a wide range of recipes, which cater for everyone. They also have a section called "one bowl" which is where we found this mouthwatering, Vegan and Gluten Free, Chocolate & Peanut Butter Banana Snack Bread recipe… Not only can you make this wonderful recipe using just one bowl, but you can also use TWO dairy free, Chi ingredients; Chi 100% Natural Coconut Milk and Chi Coconut Oil.
CHOCOLATE PEANUT BUTTER BANANA BREAD
Preparation Time: 15 mins Cooking Time: 1 hour
Author: Minimalist Baker
Recipe type: Snack, Breakfast
Cuisine: Vegan, Gluten Free
Serves: 10
INGREDIENTS
Please note: these measurements are according to US guidelines. For UK measurement conversions, use 

Good to Know Cups to Grams Converter

 or similar.
1 flax egg ( 1 Tbsp flaxseed meal + 2.5 Tbsp water | or sub 1 egg)

3 medium ripe bananas (~1.5 cups)

3.5 tsp baking powder

pinch sea salt

1/3 cup salted natural peanut butter (smooth or crunchy)

2.5 Tbsp rape seed or coconut oil, melted

1/4 cup organic cane sugar

1/4 cup packed light brown sugar

2-3 Tbsp agave or maple syrup

3/4 cup unsweetened almond or other non-dairy milk

1 1/4 cup almond meal

1/2 cup unsweetened cocoa powder

1 cup gluten free flour blend

1 cup gluten free oats

1/4 cup dairy free chocolate chips

OPTIONAL: 

1/4 cup Peanut Butter Chips
Preheat oven to 350 (PLEASE NOTE: this is according to US oven temperature settings) and line a loaf pan with parchment paper or spray with nonstick spray.

Prepare flax egg in a large mixing bowl and let rest for 5 minutes to activate.

Add banana and mash thoroughly.

Add all ingredients through almond milk and whisk vigorously to combine.

Add cocoa powder, almond meal, gluten free flour blend, oats and stir.

Last, stir in chocolate and peanut butter chips (if using).

Pour into loaf pan and bake for 1 hour – 1 hour 15 minutes. When ready, it should feel firm and be crackly on top. My sweet spot was about 1 hour 5 minutes.

Let cool completely before cutting or it will be too tender to hold form (preferably overnight).
Store completely cooled leftovers in a covered container for up to several days, though best when fresh. Slice and freeze for longer term storage.
*Nutrition information is an estimate for 1 of 10 slices of bread including both chocolate and peanut butter chips.
Serving size: 1 of 10 slices Calories: 377 Fat: 18.5g Saturated fat: 4g Carbohydrates: 51gSugar: 22.4g Sodium: 90mg Fiber: 8g Protein: 8g
CREDIT: John and Dana, The Minimalist Baker | http://minimalistbaker.com/ @minimalistbaker
Ingredient suggestions from Chi…
Chi Organic Virgin Cold Pressed Coconut Oil

Chi 100% Natural Coconut Milk
Chunky Chai Spice
and Nut Cookies
We are so exited that autumn is here! It's the season to get cosy with comfort food and warming recipes. One of our favourite bloggers, Papaya Sunshine, just sent us this delicious Chunky Chai spice and Nut Cookies recipe using our raw organic coconut oil. They are super rustic and perfect for a cosy snack with a warm Chi Coconut Milk.
Ingredients:
1 cup of gluten free flour (wholegrain spelt flour is great if you are not gluten intolerant)
1/3 cup of ground almonds
2 teaspoons of baking powder
1/2 teaspoon of cinnamon
1/2 teaspoon of nutmeg
1 teaspoon of ground ginger
1/2 teaspoon of ground cardamom
1 tbs of vanilla extract
1/3 cup of Chi Coconut Oil
1/3 cup of pure maple syrup
1/4 cup of chopped nuts
Method: 
Mix the flour, baking powder, spices and ground almonds in a mixing bowl until evenly combined. In a separate bowl make sure the coconut oil is liquid but cooled and add the maple syrup and vanilla extract and mix well. Add the wet and dry ingredients together until you have a cookie dough batter. Gently fold in the chopped nuts until well combined. Take scoops of the mixture and make little balls with your hands and flatten them slightly on a well greased baking tray. You should get around 6 cookies depending on size. Bake in the oven on the middle shelf for around 8-12 mins on 160. Leave to cool and enjoy.
Check out Papaya Sunshine's lovely Instagram page for other amazing recipes.
National Chocolate Week:
Healthy Chocolate Recipes
It's the nations favourite week, and we're here to make you feel a little less guilty about indulging! National Chocolate Week (Oct 13th-19th 2014) is the UK's biggest Chocolate celebration, culminating with The Chocolate Show, at Olympia London between the 17th and 19th Oct. Hundreds of events are expected to take place with the country's top chocolatiers and chocolate companies, as well as hotels, bars and restaurants, all taking part. Although chocolate is generally considered unhealthy, many of you will know that chocolate in its rawest form, Cacao, is actually thought to be a superfood. Cacao has one of the highest sources of antioxidant flavanols and contains many vital vitamins and minerals. When combined with cacao butter and coconut oil, Cacao becomes raw chocolate. It is these ingredients that are used by many healthy chocolate brands, like Conscious Chocolate and Ombar , to create dairy-free, gluten-free and guilt-free chocolate. Another great thing about raw chocolate, is that it is SO easy to make at home! Why not give it a go with two of our favourite guilt-free chocolate recipes: Raw Salted Caramel Peanut Butter Truffles, and Healthy Homemade Nutella!? Enjoy! 🙂
Raw Salted Caramel Peanut Butter Truffles
Made using raw chocolate, these Peanut Butter Salted Caramel Truffles are crunchy on the outside, and perfectly creamy and salty-sweet on the inside. Author: Minimalist Baker (Please note: we have altered the recipe to include raw cacao) Vegan, Gluten Free Serves: 20
INGREDIENTS
240g Medjool dates, pitted
2.5 Tbsp melted coconut oil – divided
3/4 tsp sea salt
60g natural salted peanut butter (creamy is best, but crunchy works, too)
80g raw cacao butter
4 tbsp raw cacao powder
2 tbsp maple syrup or agave syrup
METHOD 1. If your dates aren't sticky and super moist when squeezed, soak in hot water for 10-15 minutes to soften. Then drain thoroughly and pit. Otherwise, just pit and add to food processor. 2. Add 1 TBSP melted coconut oil and mix. If it's not quite combining, drizzle in warm water a little at a time – 1 tsp – scraping down sides as needed, and mix until a rough paste or ball forms. If you add too much water it will be difficult to handle them later as they won't freeze up well. 3. Lastly, add 3/4 tsp sea salt and mix once more to incorporate. Taste and adjust saltiness level if desired. 4. Freeze for 30 minutes or until no longer warm and pliable enough to scoop into balls. 5. Using a small melon baller or a Tablespoon and finger, scoop out small balls and place on a parchment-lined baking sheet and freeze for another 20-30 minutes to set. 6. Add peanut butter and 1/2 TBSP coconut oil to a small mixing bowl and microwave to melt (or heat in a small saucepan). 7. Remove truffles from freezer and drizzle with warmed peanut butter. Freeze again for another 30 minutes, or until the peanut butter has formed a semi-firm "shell." 8. Prepare the raw chocolate by melting 80g cacao butter in a bowl over a pan of water on a low heat. Once melted add 4 tbsp cacao powder and the sweetener (maple syrup or agave) to taste and mix well with a metal whisk. Remove from heat and add the remaining 1 tbsp coconut oil. 9. Remove truffles from freezer and, using a fork, scoop truffles up and quickly immerse in chocolate, using a small spoon to drizzle chocolate evenly on top. Then gently shake off excess chocolate and place back on parchment-lined baking sheet. 10. Top with a small sprinkle of sea salt (optional), and repeat until all truffles are coated. 11. Place back in freezer or fridge to set – about 30 minutes. Serve straight from the freezer or fridge. Let set out for 15-20 minutes to soften. Store in a freezer-safe container in the fridge or freezer to keep fresh. Makes about 20 truffles.
Healthy Homemade Nutella
Nutella is one of the most popular spreads in the world. It's gorgeously smooth texture, and chocolatey/nutty flavour make it almost addictive! Sadly, the ingredients are somewhat less desirable however. With the first ingredient being sugar, and the second palm oil, there is plenty to feel guilty about when consuming Nutella. Luckily, we found plenty of healthy alternatives! Now you can create your own, without feeling the guilt: Author: Anne Marie Vegan, Gluten Free Makes: Approx. 340g
INGREDIENTS
135g hazelnuts
30g cocoa/raw cacao powder
2 tbs. melted coconut oil
75ml pure maple syrup
2 tsp. real vanilla extract
1-4 tsp. water
METHOD 1. Preheat the oven to 180°/Gas Mark 4 2. Roast the hazelnuts for 10 minutes. Cool the hazelnuts and remove the skins. You can do this by pressing on them with your hand, using a rolling motion. If the skins are stubborn, submerge the nuts in water and then peel them. As the skins come off, place each hazelnut in a food processor 3. Process the hazelnuts in a food processor for about a minute, until it has a fine crumb texture 4. Add the cocoa powder, coconut oil, maple syrup, vanilla extract, and one teaspoon of water. Process to combine the ingredients. If it's too thick, add water one teaspoon at a time until the desired consistency is reached 5. Store in an airtight container in the refrigerator. This will keep for several weeks.
Happy National Chocolate Week!
Autumn Sweet Potato and
Coconut Oil Recipes
Today marks the 1st October, one of our favourite months. Not only do we get all the excitement of Halloween, we get all those beautiful Autumn colours and foods too! Namely, autumn/winter vegetables! Amongst our favourites of these seasonal autumnal vegetables, is the sweet potato; an extremely bright, delicious and versatile veg, packed with vitamins and minerals.
The sweet potato can be boiled, baked, roasted and fried, just like a normal potato, and tastes particularly good when cooked in Coconut Oil. The health benefits of Coconut Oil are plenty, and it's a much healthier alternative to most other cooking oils. See: The Lowdown on Coconut Oil to find out more. 
To celebrate the beginning of Autumn, here's some of our favourite Sweet Potato and Coconut Oil recipes to keep you healthy and warm this October…
Wholefoods Market Coconut Roasted Sweet Potatoes Recipe

Ingredients: 
2 tablespoons coconut oil

2 pounds sweet potatoes, cut into 1-inch chunks

1/2 teaspoon fine sea salt

1/4 teaspoon ground black pepper

1 teaspoon grated lime zest
Method: 
Preheat oven to 400°F. In a small saucepan, melt coconut oil over medium heat. Toss potatoes with oil, salt and pepper together in a large bowl until evenly coated. Spread potatoes in a single layer on a large rimmed baking sheet. Roast, stirring occasionally, until tender, about 40 minutes. Transfer to a serving bowl and toss with lime zest.
Lobster & Swan's Vegan Sweet Potato, Carrot and Ginger Soup
Ingredients:
1 Tbsp coconut oil
2 red onions, diced
2 gloves garlic, crushed
1 green chilli, diced
1″ fresh ginger, grated
1 large sweet potato, chopped
5 large carrots, peeled and chopped
1Tbsp vegan vegetable and gluten free stock
Salt and pepper
A fresh boiled kettle of water
Optional basil leaf for decoration
Method:
Set a large pan over a low heat add the coconut oil, once melted add onions, garlic and chilli and cook for 3-5 minutes until softened.
Add the potato and carrots and grated ginger to the pan, stir for a minute or so then pop in the stock and stir for a further minute. Pour over a kettle full of boiled water (roughly about 1.6L) and season with a little salt and pepper, I never go over board with the seasoning and let who ever is eating the soup add more to their preference.Turn up the heat and bring the soup to the boil, once it's bubbling lower the heat back down and simmer for 40 minutes.
Check the veg is soft then take soup off the heat and let it cool for 30 minutes or so before blending.
Enjoy with some crusty bread or some buttered rice cakes.
Mushroom salad with
Coconut Oil
We love packed lunches here at the Chi office. We are always looking for new healthy recipes to bring for work and today we just tried this delicious Mushroom salad with Coconut Oil. If you are looking for an easy and healthy lunch recipe to pack for work, you must try this one.
Here is the recipe:
Ingredientes:
1 tbsp Chi Coconut Oil
1 punnet mushrooms
4 hanfull spinash
1 cup of sprouts
10 cherry tomatos
1/2 avocado
Juice of 1/2 lemon
1 tsp tamari
Sea salt & pepper
Instructions:
1. Heat the Chi Coconut Oil on a medium-high heat in the pan for 5 minutos;
2. Add the mushrooms to the pan and season with tamari, sea salt & pepper. Cook for 10 minutes;
3. In the meantime make a salad with the spinash, avocado, sprouts, tomatos and lemon juice;
4. Mix the mashrooms with the salad and enjoy!
Coconut oil is an amazing food to incorporate into your diet. Check out here 10 proven health benefits of Coconut Oil.
Coconut Oil Recipes
for Fitness
Allow us to introduce you to our favourite fitness couple…
Liftus Fitness!
Who are they?
Ashy & Sophia, from Manchester. A couple that train together, lift together, and most importantly, eat together.
Why do we love them?
Sophia's interest in nutrition, combined with Ashy's strong (excuse the pun) background in fitness means that we regularly receive incredible new recipes to try! They absolutely love Chi, and always incorporate our products into their healthy, fitness food. In turn, we love following them on social media and seeing what they're up to. They definitely give us motivation to get down to the gym after work!
What do they do?
Other than posting workout videos, and cute fitness couple pics, Ashy & Sophia also post a number of gorgeous looking recipes to aid your fitness and training workouts. They're always packed with nutrients, and NEVER boring! We've included a few of our favourites below using our very own Chi Coconut Oil, but make sure you head to their website: http://www.liftusfitness.com/the-lifters/ and follow them on social media to discover many more.
Hemp Scottish Rudeberry Pancakes
Pancakes:
1 drop vanilla essence
1 scoop vanilla soya protein (My Protein)
4 tsp hemp seeds
90g buck wheat
1 egg white
Large handful chopped blueberries
175ml Rude health brown rice drink
Topping:
½ tsp Stevia
1 tsp agave honey
Large handful blueberries
Cook in Chi Coconut Oil
Recipe:
Place buckwheat and 50ml brown rice drink into pan. Simmer pan and keep adding the rice drink until the buckwheat is soft (around 7-10minutes). If you have some rice drink left over or not used all of it that is fine! Just add to mixture! Let cool for 5 minutes and then blend with hemp seeds, egg white, vanilla essence and protein powder.  The mixture should be smooth but thick! (The pancakes are Scottish themed nice and thick)
Heat pan and add 1 tsp of chi coconut oil. The pan needs to be heated for 1-2 minutes before you start so its nice and hot! Once you have added the mixture smooth to a circle shape and then sprinkle a few chopped frozen blueberries on top. Be careful for flying blueberries when you flip!
Topping: heat blueberries, honey and stevia all in a pan with 20ml boiling water and 1 tsp of chi coconut oil. Simmer until smooth. Pour over pancakes and add a few extra hemp seeds and serve! 🙂
Garlic Paprika Prawn Dish
Ingredients:
1 tsp paprika
Handful chopped parsley or coriander
2 garlic cloves
1-2 tsp of Chi Coconut Oil
8-10 king prawns – de-shelled
Black pepper
Recipe:
Add 2 tsp of coconut oil to pan, and add garlic let this simmer to garlic reduces. Add the prawns, paprika and chopped herbs. Then place under the grill for 3-4 minutes for extra crunch.
Serve and enjoy with home-made gluten free crusty bread.
Thanks for your continued support Liftus Fitness! Keep liftin'. 🙂
The Lowdown on
Coconut Oil
Coconut Oil may as well be renamed "Nature's Wonder Oil." With over one hundred different uses, it is one of the most versatile health products you can get your hands on. For anyone who is unsure of where to start, here are just 5 of the most popular ways you can use it:
–       Cook with it – perfect for frying, baking and high temperature cooking
–       Eat it – add to porridge, coffee, smoothies or toast
–       Apply it – for luscious locks and smooth skin
–       Pull it – ideal for oil pulling which boosts oral hygiene
–       Spread it – add to crackers/rice cakes for a healthy, dairy free alternative
As a staple food item in some of the healthiest countries in the world, it is no wonder that new research suggests high quality coconut oil can aid fat loss, maintain a healthy heart and even push athletic performance.
GOOD FATS & MCT's
The best way to understand Coconut Oil is to compare it to the Avocado, a similar plant-based food, with a high fat content that is considered highly nutritious. Come to think of it, coconuts and avocados could be related. Distant cousins, maybe!?
Like the Avocado, Coconut Oil falls under the category "good fats," which play an essential role in a well-balanced, healthy diet. We get our "good fats" from fish, nuts, seeds and oils.
Coconut Oil also contains Medium-Chain Triglycerides (MCTs) and reportedly has more than any other food in existence. MCTs, or medium-chain fatty acids as they are also known, are metabolized differently to longer-chain fatty acids that are found in foods like steak and cheese. MCTs are easily digestible and absorbed directly into the liver, increasing your energy expenditure and helping the body to burn other fats. Pretty nifty, huh?
A COCONUT A DAY KEEPS THE DOCTOR AWAY
Coconut Oil contains around 50 percent Lauric Acid, a type of medium chain fatty acid. When lauric acid is present in the body, it is converted into monolaurin, a monoglyceride compound that exhibits antiviral, antimicrobial, and antifungal properties. It acts by disrupting the lipid membranes in organisms like fungus, bacteria and viruses, thus destroying them. Many people who regularly consume coconut oil experience less sickness.
BODY BUILDERS & ATHLETES
All over the world personal trainers and nutritionists are recommending Coconut Oil to their clients.  It is popular with athletes due to the increase in energy expenditure provided by the medium chain triglycerides. Coconut oil can also blunt appetite and stave sugar cravings making it a perfect addition to any athlete's diet. Similarly, body builders can take advantage of the same benefits. It is also claimed that coconut oil can be used by body builders to boost testosterone levels, helping to maintain hard-earned muscle when getting "shredded" for a show. Additionally, the lower the carb intake in any athlete or body builder's diet, the more important it becomes to NOT limit fat intake, in particular saturated fat.
ORGANIC. RAW. VIRGIN. COLD-PRESSED.
It is really important to buy unrefined, unprocessed coconut oil. Chi Coconut Oil is raw, unrefined, organic, cold-pressed and virgin. This means that it is never heated, never treated and never processed. What reaches you in the jar is pure coconut goodness.
Now to let you in on a little secret… Did you know that there is absolutely no difference between "extra virgin" coconut oil and "virgin" coconut oil? "Extra virgin" is actually just a marketing term. The only place you'll find a difference is in your Olive Oil, but you should probably replace that with Chi Coconut Oil anyway!

VEGAN √
ORGANIC √
PALEO FRIENDLY √
So, now that you know just how awesome coconut oil is, why not head over to Amazon and grab yourself a jar?  You can then stop by our Pinterest page for some recipe inspiration.
Enjoy! 🙂
Dairy Free Chocolate &
Banana Workout Smoothie
A pre-or-post workout smoothie is the quickest and easiest way to pack in essential nutrients that your body needs before and after a workout. A liquid snack before hitting the gym can provide the body the fuel it needs to gain muscle and burn fat, and won't be too heavy on your stomach.
After a workout, a protein drink can help build stronger muscles and speed up muscle recovery time. Protein can also help to rebuild the body throughout the day.
Whey Protein is probably the most popular form of protein powder, however it contains dairy, and not everyone can stomach dairy.  Luckily, there are plenty of Vegan and dairy free options on the market now. We recommend trying protein substitutes like hemp, rice, or pea, and milk substitutes like coconut, rice, oats or almond.
Our Dairy Free Chocolate & Banana Workout Smoothie is made using Pulsin Rice Protein which is raw and contains 8g of Protein per serving. Drink this 60-90 minutes before or after a workout for a tasty, nutritious and energising boost.
Dairy Free Chocolate & Banana Workout Smoothie 
Ingredients:
1 x 330ml Chi Chocolate Coconut Milk
1-2 servings (10-20g) Pulsin Rice Protein (or protein powder of your choice – please check recommended serving on back of pack)
1 x Banana
Chia Seeds (optional)
Method:
Chop your banana into small chunks and pop into a blender. Add your protein powder, and pour over a carton of Chi Chocolate Coconut Milk. Blend until smooth.
Serve over ice, or pop into your favourite shaker. Finish with a sprinkle of Chia Seeds.
ENJOY! 🙂
Sweet Potato Pie
with Coconut Oil
Don't know what to cook for dinner tonight?  You must try this delicious and healthy Sweet Potato Pie using our organic and raw Coconut Oil.
Check out the recipe created by our super fit friends Liftus Fitness:
Ingredients:
Topping
3 sweet potatoes
20g Greek yogurt
30ml soya milk
Grated nutmeg
1 tsp oregano
Filling
400g (before cooked) lean turkey mince
1 tsp of Chi Coconut Oil
1 onion, chopped
2 carrots, chopped
1/3 courgette, chopped
½ red pepper, chopped
1 tsp garlic, chopped
1 tsp chillis, chopped
1 tsp liquid chicken stock
Recipe:
Peel the sweet potatoes and then boil or put in the microwave for 3-5 minutes – you will know once cooked as they will become soft. Mash the sweet potato, the soya milk and 20g of greek yogurt and ½ tsp of Chi Coconut Oil together.
Put a pan on low heat, melt the remaining Chi Coconut Oil and then add onions, chilli and garlic. Sautee until browned, then add the turkey and the remaining vegetables. Once the turkey has cooked through add the chicken stock.
Put the filling into the bottom of a casserole dish followed by the sweet potato topping. Flatten with a fork and then grate nutmeg and sprinkle oregano over the top.
Serve with a mixed salad.
For kids:
Add ½ can of tinned tomatoes once the turkey mince has cooked through. This will make the pie more kid friendly. Make sure to cook through so the sauce thickens.
Summer Coconut
Water Smoothie
Good morning everyone,
Start your day the healthy way with a Summer Coconut Water Smoothie.
Ingredients:
1 cup Chi Coconut Water
1 banana
1/2 mango
1 tbsp quinoa flakes
1 tsp maca powder
1 tsp chia seeds
1 tsp sunflower seeds
1 tsp goji berries
Blend everything and save some of the goji berries to sprinkle on top.
Enjoy! 🙂
Green Juice Recipe
with Coconut Water
Happy Monday everyone!
Let's all have a green week?
Smoothies are definitely the perfect way to get enough vitamins and minerals through out the day.
Here is the recipe for one of our favourite green smoothies.
Ingredients:
1 cup Chi Coconut Water
1 handful spinach
1 kiwi
1 banana
1/2 lemon juice
1 tbsp ginger
1 tbsp chia seeds
Blend everything together and enjoy for a boost of energy!
Healthy cod fish cakes
in coconut oil
Here is a recipe for delicious cod fish cakes using Chi Coconut Oil created by one of the Chi team. Get inspired with this healthy recipe:
Ingredients:
(Serves 4)
1 fillet of cod
1 cauliflower, chopped
1 sweet potato, chopped
3 eggs
1 handful spinach
1 handful coriander
Salt & pepper
1 tbs Chi Coconut Oil
Instructions:
1. Boil the cod until cooked.
2. Boil the cauliflower and sweet potato and make a purée.
3. Mix the boneless cod with the purée, eggs, spinach, coriander, salt and pepper until it becomes a thick past.
4. Heat the coconut oil until melted and add the mixture in small parts until golden brown.
5. Serve with mixed salad.
Post-workout green
smoothie
Last night one of the Chi team made this amazing green smoothie full of goodness after their cardio session at the gym.
Always make sure your post-workout snack provides carbs, protein, essential fatty acids, electrolytes and antioxidants. And this smoothie definitely ticks all boxes!
Here is the recipe:
1 handful spinach
1 banana, chopped
1/2 mango, chopped into small pieces
1 cup almond milk
1 tsp Chi Coconut Oil
1 tsp chia seeds
1 tsp sunflower seeds
Blend everything and enjoy!